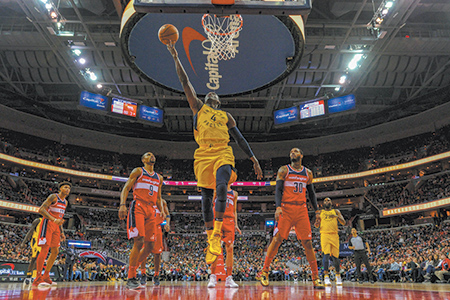 The Indiana Pacers are going international next season.
The team announced Thursday that it will play two preseason games in India as part of its 2019 preseason schedule, competing against the Sacramento Kings on Oct. 4-5 in the city of Mumbai.
IBJ reported in August the Pacers were being considered by the NBA for the India games, following comments made by Jim Morris, vice chairman of Pacers Sports and Entertainment, during a private event.
At about the same time, NBA Commission Adam Silver told reporters that that preseason games were being considered. "We are very focused on the Indian market," he said.
To promote basketball in India, the NBA in May 2017 launched The NBA Academy, an elite basketball training center at Jaypee Greens Integrated Sports Complex in Greater Noida, according to the Hindustan Times.
The Indiana-Sacramento games will mark the first time a major North America-based sports league stages any contest in the country, according to the Pacers. They could mark a shift for the league as it seeks to further expand its international appeal.
""We are thrilled to be one of the first two teams to play the first-ever game in India and proud to be part of the expanding NBA worldwide footprint of our game of basketball," Pacers owner Herb Simon said in a written statement.
Silver on Thursday thanked the Pacers and the Kings for agreeing to participate.
"Our inaugural NBA India Games will help further untap the enormous basketball potential in a country with a thriving sports culture and a growing, young and engaged population," he said in a media release.
The NBA's Indian initiatives also include The Reliance Foundation Jr. NBA program that has reached more than 10 million youth from 10,000 schools and trained more than 10,000 physical education instructors nationwide since its launch in 2013.
The games will be played at the NSCI Dome, which has a seating capacity of about 8,000. Tickets are not yet on sale for the event, but fans interested can visit nbaevents.com/indiagames to find out more about the event.
Please enable JavaScript to view this content.