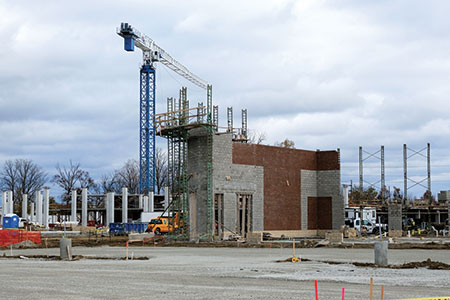 Big projects are redeveloping underused and blighted properties across Hamilton County.
In February, Indianapolis-based Thompson Thrift upped the ante with its culinary district planned for Fishers. Thompson Thrift is redeveloping the property where the Springdale Estates neighborhood previously stood.
The developer announced that a 252-unit apartment project would be included in the 17-acre The Yard at Fishers District, now estimated to cost $110 million.
Construction kicked off over the summer after Fishers issued a $16.4 million bond to help finance the project, including a public parking garage. Since then, more tenants have been announced, including a handful that won't be restaurants.
As of November, more than 80 percent of the project was leased, and its first tenants are expected to open their doors next fall.
In Carmel, the first building in the redeveloped Midtown opened for business in January when Allied Solutions' headquarters moved in. In July, the new Sun King Taproom and Distillery, which features a rooftop deck and a food hall with four micro-restaurants, opened. Now, construction projects on the west side of the Monon Trail are under construction.
Also in January, Carmel announced the name of its planned city-owned hotel, to be called The Carmichael. The 122-room hotel will be part of the Autograph Collection by Marriott. The Carmel Redevelopment Commission has lined up financing for the project and picked contractors for the work, which is expected to begin by spring. Site work has already begun.
And in Noblesville, the city announced in August that Fishers-based Rebar Development plans to redevelop a half block downtown—bordered by Eighth and Ninth streets, Maple Avenue and the east/west alley south of Conner Street. The $24 million project will be downtown Noblesville's first mixed-use development in more than a century and will feature 83 apartments and a 337-space parking garage.•
Please enable JavaScript to view this content.