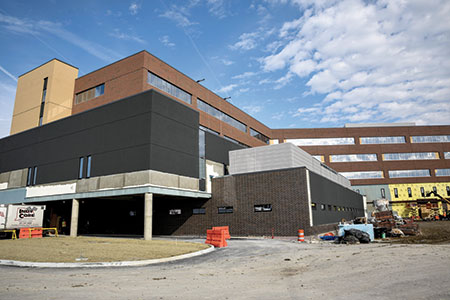 The construction boom in health care continued in high gear in 2018, with projects costing billions of dollars announced or under way. They range from full-service hospitals in Bloomington, Brownsburg and Shelbyville to a flurry of "micro-hospitals," free-standing emergency rooms and urgent care centers.
◗ Work continued on the new Community Hospital East, a $175 million project that will replace the 62-year old hospital on the same site, 1500 N. Ritter Ave., off of East 16th Street. The new hospital, with 250,000 square feet, is roughly half the footprint of the old one, with an emergency room about twice the size of the existing one, new operating rooms, a 175-bed patient tower and a new front entrance. Opening is set for next year.
◗ Franciscan Health announced plans in September to build an orthopedic hospital and medical office building in Carmel, a project to cost at least $130 million, to help it meet the growing demand for hip and knee replacements. The project would span 255,000 square feet across 18 acres along the east side of North Illinois Street, between West 106th Street and West 111th Street.
◗ Indiana University Health announced plans in April to build a $55 million cancer center at its North Hospital campus in Carmel. The two-story, 88,000-square-foot building would provide a wide range of cancer care, along with support programs, such as art, music and yoga therapies.
◗ Riverview Health announced in February it would build four free-standing buildings that would combine urgent care centers and emergency rooms, in north Carmel, west Carmel, Fishers and the Nora area of Indianapolis. Each facility would be about 10,000 square feet.
◗ Hendricks Regional Health opened a two-story, 100,000-square-foot hospital in Brownsburg in January. The $50 million hospital includes an emergency room, urgent care, women's health, sports and rehab medicine, and other features.
◗ IU Health is expected to unveil in coming months the preliminary design of its downtown campus, a $1 billion project that will consolidate Methodist and University hospitals and could result in the construction of several buildings and the demolition of others more than a century old.
◗ St. Vincent Health said it planned to buy 30 acres of land at the intersection of West 96th Street and Spring Mill Road in Carmel but says it has not made any decisions on how to develop the site. An earlier attempt to rezone the property was dropped after running into huge opposition from neighbors.
◗ The state of Indiana plans to open a $120 million psychiatric hospital, called the Indiana Neuro Diagnostic Institute, next year on the campus of Community Hospital East. The 159-bed facility will be the flagship of the state's network of six mental health hospitals and 25 community mental health centers.
◗ St. Vincent continued to open tiny "neighborhood hospitals," with eight locations from Noblesville to Plainfield. Each hospital, measuring about 17,000 square feet, has seven emergency beds, eight overnight rooms, imaging, a pharmacy and lab services under one roof. Cost for each is about $10 million.
◗ IU Health broke ground in January on a $400 million replacement hospital in Bloomington. The 700,000-square-foot hospital is set to open in 2021.
◗ IU Health is renovating four floors of Riley Hospital to house a labor and delivery unit and a 45-bed ICU for newborns. The $142 million project will open in 2020.
◗ In non-construction St. Vincent news, the health system said it will incorporate the name of parent Ascension into its 24 hospitals and more than 300 clinics, ambulatory centers and physician's offices across Indiana.•
Please enable JavaScript to view this content.