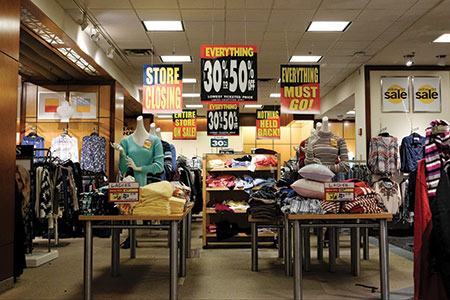 It was another tough year for brick-and-mortar retailers, with Carson's, Toys "R" Us and Sears closing stores across the country.
In Indianapolis, Carson's left a 145,000-square-foot hole in Circle Centre mall when the three-story department store shut down April 29 following a three-month liquidation sale.
The closure was part of larger troubles at Carson's corporate parent, Bon-Ton Stores Inc., which filed for Chapter 11 bankruptcy protection in January. The company went into liquidation in April after failing to find a bidder willing to continue the business.
Other notable retail openings and closings:
◗ Tow Yard Brewing filed for Chapter 11 bankruptcy protection on Jan. 17, and closed its doors at 502 S. Madison Ave. on March 16. Tow Yard, owned by Shawn Cannon, had operated in that space since March 2014.
◗ Two Indianapolis Sam's Club stores, at 18059 E. Washington St. and 3015 W. 86th St., shut their doors Jan. 26 as part of a broader closure of 63 Sam's locations nationwide.
◗ Whole Foods opened its first downtown Indianapolis store in March, at 320 E. Market St. in the 360 Market Square apartment development.
◗ Toys "R" Us announced in March that it would close all its Babies "R" Us and Toys "R" Us stores. One of those locations, a former Babies "R" Us at 3928 E. 82nd St., found new life as a PGA Tour Superstore location. That store opened in September.
◗ Hedge Row opened in March at 350 Massachusetts Ave., and Next Door American Eatery opened in May at the corner of East 46th Street and College Avenue. Both restaurants are part of Boulder, Colorado-based Kitchen Restaurant Group, which was cofounded by Kimbal Musk, the younger brother of tech giant Elon Musk.
◗ Canada-based Tim Hortons closed its only local store, at 8301 Rockville Road near Avon, on May 16, less than four months after opening. The franchisee, Hobart-based Luke Brands, had announced in January that it planned to open a total of five Indianapolis-area Tim Hortons. Other than the short-lived Rockville Road store, none of the others opened.
◗ Chef Jonathan Brooks, proprietor of much-lauded Milktooth, opened a second restaurant, Beholder, in June at 1844 E. 10th St. Brooks' partner in Beholder is sommelier Josh Mazanowski.
◗ Longtime retailer Harry Gaunt Jewelers, 8301 N. Keystone Ave., closed its doors in June after 60 years because its 86-year-old owner and namesake wanted to retire.
◗ The Jason's Deli at Bankers Life Fieldhouse closed on June 29, less than a year after opening. Pacers Sports & Entertainment repurposed the restaurant into additional retail space for its Pacers Team Store.
◗ Sears closed its Castleton Square store in July. The retailer filed for Chapter 11 bankruptcy protection in October, and on that day the company announced another round of store closures, including its sole remaining Indianapolis location, at Greenwood Park Mall.•
Please enable JavaScript to view this content.