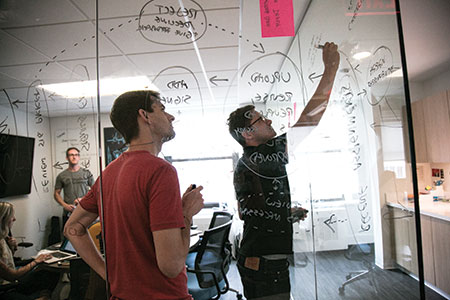 Indianapolis tech companies got off to a fast start in 2018, raising $34.5 million in venture and growth capital in the first quarter of the year, according to PricewaterhouseCoopers.
The second quarter slowed, with only $27.2 million raised on 12 deals. But the third quarter saw $53.5 million raised in 16 deals.
The $115.2 million raised in Indiana through three quarters put the state within shooting distance of last year's total of just more than $134 million and far ahead of the $81.7 raised in 2016.
Then in October, a massive fund-raise by Scale Computing assured 2018 will top 2017. It will be part of fourth-quarter numbers that won't be available until early 2019.
Among the state's biggest deals this year:
◗ Health analytics software firm Springbuk raised $20 million in January.
◗ Zylo, a company that helps enterprises manage their software subscriptions, raised $9.3 million in January.
◗ High Alpha in July announced it secured $85 million for its High Alpha Capital II, a seed and Series A venture fund, and $16.7 million for its High Alpha Studio II, an enterprise-startup studio focusing on software-as-a-service companies. Only the $16.7 million qualifies as venture capital raised as defined by PricewaterhouseCoopers.
◗ In late October, Scale Computing Inc. landed $34.8 million, one of the biggest rounds of funding in Indiana in recent years and is planning to more than double its workforce—to more than 200 employees—over the next two years.•
Please enable JavaScript to view this content.