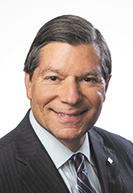 Morrie Maurer
National Bank of Indianapolis President and CEO Morrie Maurer plans to retire Jan. 4, more than 25 years after co-founding one of the region's largest locally owned banks.
Maurer, 67, will be succeeded by Mark Bruin, the bank announced Wednesday.
Maurer is expected to retain his seat on the bank's board of directors and serve as a consultant to the bank.

Mark Bruin
Bruin, 61, has been at the bank for nearly 18 years, the past seven as executive vice president and chief banking officer.
The bank created a succession plan two years ago, and Bruin was identified as Maurer's successor at that time. 
"I see my job No. 1 as continuing to build our culture, because that's really, really important to us," Bruin said. "We have a unique niche here in the market, and I don't plan to deviate from that in any material way."
Maurer and cousin Mickey Maurer founded the bank in 1993. A change in banking laws had sparked a wave of consolidations, and the cousins envisioned a locally-focused bank that could fill an emerging void in the market.
Morrie Maurer previously worked for Indiana National Bank from 1975 to 1992. Mickey Maurer is also a shareholder in IBJ Corp.
Today, National Bank of Indianapolis has 13 banking offices in Marion, Hamilton and Johnson Counties. The privately-held bank has more than 300 employees, more than 50,000 accounts and more than $2 billion in assets.
National Bank of Indianapolis is the largest locally owned bank in the Indianapolis area in terms of employment and local deposits. Fishers-based First Internet Bank is larger in terms of assets, at nearly $3.2 billion.
The bank's intense focus on customer service reflects Morrie Maurer's influence, Mickey Maurer said.
Morrie Maurer's father, Sidney Maurer, ran the famous Atlas Grocery at the corner of 54th Street and College Avenue. Mickey Maurer said his cousin learned the value of customer relations from that experience, and used those lessons as a banker. "Personal service is one of his important marks."
In retirement, Morrie Maurer said, he plans to spend more time with family and pursuing personal interests, but he's also exploring some new opportunities that involve both the business and not-for-profit sectors.
"I've got quite a few ideas, and I'm going to take my time and sort through them," he said.
Please enable JavaScript to view this content.