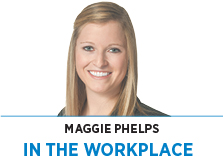 In a recent report, Indianapolis ranked sixth in the country for volunteerism. That's based on our 51.7 million volunteer hours, valued at an estimated $1.2 billion. Now, that's something to be proud of. It tells us that, across the board, our community cares enough to take an active role in improving the lives of our neighbors. It means we are a community of doers who are willing to put in the sweat equity to make this an even better place to live.
And there's more work to be done. Our community needs are dire (see Hayleigh Colombo's series "One City, Worlds Apart" for detail on this), and we have a labor force of volunteers who are showing up in droves to answer the call. Yet, we are not maximizing their potential for impact.
We have an opportunity to double down on the quantity of volunteer hours we spend on our community in a simple and significant way—by improving the quality of those hours spent. When the Corporation for National and Community Service calculated that we are sixth in the country for volunteerism, they multiplied the number of volunteer hours by an average value of volunteer time to calculate the monetary value. It's a good measurement to quantify nationwide trends, but it leaves something to be desired once we drill down to our community and look closely at how well volunteers support local not-for-profits. It assumes that all volunteers offer the same amount of value per hour. However, some volunteers are more valuable than others.
People who volunteer consistently over time and commit long term are far more valuable to an organization than those who engage one time or on a short-term basis. Unfortunately for the not-for-profit community, we now exist in a very fluid environment in which volunteers have more options than ever before and they have no real obligation to make a standing commitment.
With this, we see a revolving door of volunteers flowing in and out of organizations. There is a significant cost associated with volunteer turnover. According to one study, more than one-third of those who volunteer one year do not donate their time the next year, which means hundreds of thousands of dollars lost.
Not-for-profits rely on unpaid volunteer talent to carry out their mission. Volunteers contribute their time and expertise, build programs, provide technical assistance, facilitate strategic planning, fundraise, advocate as spokespeople and offer in-kind support. It's vital for not-for-profits to form relationships, recognize volunteers for their contributions and engage them meaningfully in order to retain them. Simultaneously, it's important for those of us in the business community to understand how difficult this can be.
When volunteers lack commitment to an organization, it's burdensome for not-for-profits. Here's why:
◗ Recruiting volunteers is a time-consuming and costly process.
◗ Matching volunteers with meaningful tasks to fit their skillsets requires thoughtful consideration and time.
◗ Volunteers, like employees, need to be oriented, instructed and supervised. Having transitory volunteers increases staff time for orientation and oversight.
◗ One-time or short-term volunteers have less skin in the game. They often cancel last-minute or don't follow through on their commitments, leaving a project or program in the lurch.
Not-for-profit staff time is under constant scrutiny as we (the public) expect its resources are being wisely spent and that overhead remains low. The overhead ratio is seen as a reflection of how efficiently a not-for-profit is being managed. It is also a critical factor many donors consider when deciding where to give their charitable dollars. As a result, and to keep overhead at a minimum, not-for-profits often have overextended staff and operate on a shoestring budget. It's rare, especially for smaller organizations, to have the time and resources to build a robust volunteer talent-management system, making it challenging to cultivate relationships and create meaningful experiences for volunteers.
So, what can we do about it?
◗ We can solve this problem, as well as many others, by changing our minds about how we scrutinize overhead expenses for not-for-profit organizations (see Dan Pallotta's Ted Talk for some great reasons why).
◗ If you are a part of the 43.3 percent of Indianapolis residents who volunteer, challenge yourself to focus your time and attention meaningfully, understanding that loyalty and consistency as a volunteer is invaluable to a community organization.
◗ If you have specialized skills that you can offer a community-based organization to fill a gap in their staff skills, step up to assist in a very specific way.
◗ Our local corporations encourage employee volunteerism and often report on the number of hours they have served in the community as a testament to their commitment to giving back. Consider the frequency in which employees volunteer and how often you revisit the same organizations. What kind of projects are you helping with? Are you supporting a not-for-profit's organizational capacity in the future?
Let's harness our already strong volunteer army in Indianapolis to make a greater impact by remembering who we are serving and asking ourselves: How can I serve in a way that makes a place better in the long-term?
__________
Phelps is leadership initiatives manager at United Way of Central Indiana.
Please enable JavaScript to view this content.