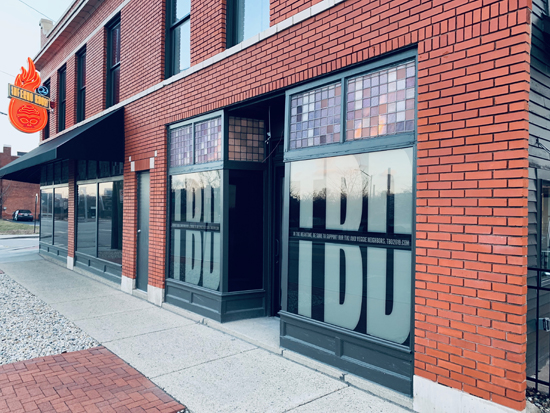 Advertising agency MilesHerndon, which moved to Fountain Square in September, is opening a cafe and cocktail lounge called Gavel in the firm's 900-square-foot lobby.
Gavel is scheduled to open to the public in February.
Both the agency and the cafe are in the same building at 902 Virginia Ave. that also houses the Inferno Room, a tiki bar that opened last year. The 12,000-square-foot building, known as the Woessner Building, was built in 1915. Inferno Room co-owner Ed Rudisell, Deylen Realty principal Craig Von Deylen and real estate developer John Altman purchased the building in September 2015.
When MilesHerndon moved from Monument Circle into its new a 4,300-square-foot office space in the fall, the company took note of the "really welcoming lobby" in the new office and decided to put it to use it for something besides office space, said MilesHerndon Principal and CEO Daniel Herndon.
"It seemed like something that would be really interesting," Herndon told IBJ. 
MilesHerndon, a 14-employee firm founded in 2002, has signed a long-term lease for the space. The firm spent about $450,000 on the office buildout, with about $212,000 related to the cafe space, Herndon said.
The cafe and lounge will serve coffee, beer, wine and cocktails along with snacks and small plates. Kevin Sanders, former bartender at Fletcher Place restaurant Bluebeard, has been hired as Gavel's general manager and is finalizing the menu, Herndon said.
Herndon said the cost for a two-way liquor license is nominal. Gavel primarily plans to serve beer and wine, and vermouth- and amaro-based cocktails.
Though Gavel is primarily a public establishment, its presence offers some business advantages to MilesHerndon.
"I think it will create some visibility for MilesHerndon," Herndon said. "They might discover our marketing firm through their patronage of the cafe."
Having an in-house cafe also gives MilesHerndon the ability to host special events in a non-office setting without having to rent outside space, Herndon said.
The name Gavel pays homage to the history of the building, which formerly housed a Marion County courtroom facility. 
"Some of the components of the judge's bench are being used as an art installation at the front of our bar," Herndon said.
The Woessner Building originally housed a meat market operated by Jacob Woessner, a German immigrant, butcher, sheriff and civic leader.
Please enable JavaScript to view this content.