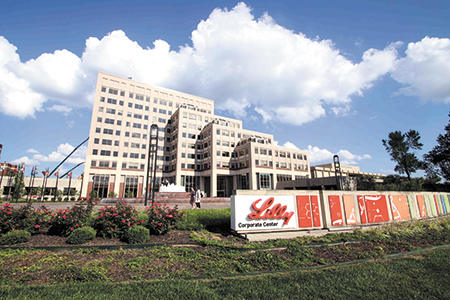 Eli Lilly and Co. announced Monday that it is buying Loxo Oncology, a startup targeting genomically defined cancers, for about $8 billion in cash.
The purchase of Stamford, Connecticut-based Loxo is Lilly's biggest takeover ever, according to data compiled by Bloomberg News. It gives the Indianapolis-based drug giant access to potentially game-changing cancer drugs, including one that is being studied for multiple tumor types that recently was fast-tracked by the U.S. Food and Drug Administration. The FDA's granting of "breakthrough therapy" status positions the drug for possible launch in 2020.
In addition, Loxo in November won FDA approval for another cancer drug that it is commercializing with Germany-based Bayer AG. In a research study, that medicine shrank tumors in 75 percent of patients with a rare type of genetic mutation.
"We're excited," Dr. Daniel M. Skovronsky, Lilly's chief scientific officer, told the health care news service STAT. "As we went through the process … every single person on our team who looked at this and touched it had this feeling that these are the kind of medicines I want to be associated with, that I want to spend my career working on, because of the impact for patients."
Lilly is paying a huge premium to snag Loxo. The per-share price is $235, 60 percent above where the stock closed Friday. Loxo, which was founded in 2013 and has only about 60 full-time employees, went public in 2014 at $13 a share.
Analysts expect Loxo to generate expect about $200 million in revenue this year, according to estimates compiled by Bloomberg. They expect it to reach $1.14 billion in sales in 2023.
Lilly CEO Dave Ricks, who took the helm of the company in January 2017, has signaled that the company's drug-development strategy would focus more on partnerships and acquisitions. In May, Lilly agreed to buy Redwood City, California-based ARMO BioSciences Inc. for $1.6 billion in cash.
That purchase price was $50 per share—roughly triple the $17 at which the company went public in January. ARMO develops medicines that activate the immune system of cancer patients to recognize and eradicate tumors.
Please enable JavaScript to view this content.