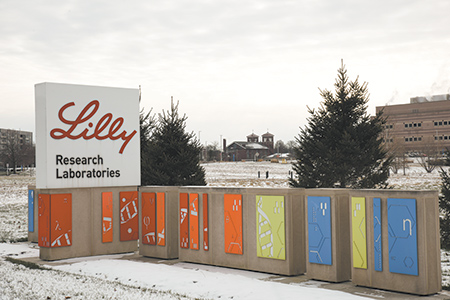 A slimmed-down Eli Lilly and Co., thousands of employees lighter after its biggest restructuring in nearly a decade, is now looking high and low for deals to bulk up its drug pipeline.
In recent weeks, CEO David Ricks has told employees and investors he wants to significantly boost the number of drugs in Lilly's arsenal that were discovered outside the company. The goal is to have about one-third of the pipeline at every phase of development coming from outside sources.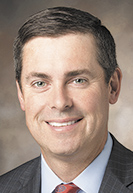 Ricks
That would be a big leap. Today, only 4 percent of Lilly's early-stage pipeline comes from outside sources, much lower than the industry average of 33 percent. Likewise, only 8 percent of the company's middle-stage pipeline comes from outside sources, far lower than the industry average of 50 percent.
The push—which could give Lilly a big boost if early-stage bets pay off—coincides with a scaling back of some of Lilly's internal R&D efforts. More than 2,300 of Lilly's U.S. employees took an early buyout last month, including dozens of scientists in its discovery chemistry group, which designs and synthesizes molecules on a small scale in the early drug-discovery phase.
Now Lilly is under pressure to scour the industry to do enough deals to meet Ricks' goal of boosting the early-stage and middle-stage pipelines to 33 percent from outside sources.
"What we seek to do now is really make external innovation a core part of every step of R&D because we want to work on the most valuable ideas no matter where they come from at all steps," Ricks told attendees at a JPMorgan Healthcare Conference in San Francisco on Jan. 10.
To add to the pressure, Ricks is pushing the company to increase revenue 5 percent from 2015 to 2020, a move that many analysts say will not be possible without several acquisitions. In 2016, Lilly had revenue of $21.2 billion. It will announce 2017 revenue on Jan. 31.
For decades, Lilly was one of the least externally focused pharmaceutical companies, preferring to develop its drugs in-house. The company made few large-scale acquisitions and negotiated fewer partnerships than many of its peers.
The company's former CEO, John Lechleiter, a professional chemist, took pride in the company's internal R&D capabilities, even as he rolled out some small and medium-size deals during his tenure, including the $6.5 billion acquisition of oncology company ImClone Inc. in 2009.
Of Lilly's last nine launches, five have come from partnerships, but Lilly acquired many of those drugs in late-stage deals. Those types of deals are more expensive but less risky than early-stage deals, when products are largely untested.
Ricks, who came up through sales and marketing and succeeded Lechleiter last year, is putting the company and Wall Street on notice that he wants to throw open the gates to outside deals, especially in early stages.
He told attendees at the JPMorgan conference that Lilly would be on the lookout in all therapy areas, although he expected many of the deals to take place in immunology and oncology, "because that's where most of the external action is."
Analysts were quick to pick up Lilly's new tone.
"CEO repeatedly sounds like he is preparing the market for deals, which are likely to be proof of concept/clinical stage focused on immunology and oncology," Alex Arfaei, an analyst at BMO Capital Markets, wrote in a note to clients on Jan. 10.
Some observers say Lilly has little choice but to follow the industry's lead in trying to form more partnerships and sign more early-stage deals. That's particularly true after the latest wave of employee buyouts, which marked the largest depletion of ranks since Lilly cut 5,500 jobs in 2009.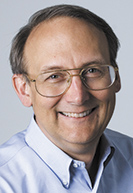 Telthorst
"Lilly would be the first to say it doesn't have the resources to cover everything," said George Telthorst, director of the Center for Life Sciences at the Indiana University Kelley School of Business in Bloomington. "It needs to take some resources from outside."
'Robust succession planning'
Lilly declined to make Ricks or other senior executives available for interviews. But the company acknowledged the restructuring would mean less in-house expertise.
"We recognize that colleagues who participate in the U.S. voluntary early retirement program will leave with considerable skills, capabilities and knowledge," Lilly spokesman Mark Taylor said in an email.
"We also have robust succession planning processes, paying special attention to developing talent for key roles. As a result, we're confident we'll maintain the capabilities needed to drive our future success."
In addition to having more than 2,300 employees depart through early retirements, Lilly said it "continues to identify areas to further reduce costs and improve efficiencies." It declined to say how many employees might lose their jobs as a result.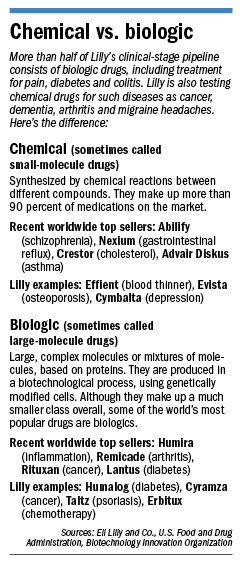 As of Dec. 31, Lilly employed about 11,400 in Indianapolis, making it one of the city's largest employers. But those numbers do not include the wave of early retirees, and Lilly said it will not give a breakdown on locations of the retirees until April.
One key recent departure was Dr. Alan Palkowitz, a vice president and longtime leader of Lilly's discovery chemistry group. Palkowitz confirmed to IBJ he retired. But in two brief telephone interviews, he declined to talk about the future of his group.
"You're taking the discussion in a less than positive direction … regarding the number of people leaving and what it will mean for Lilly," he said. "I don't want to get into that."
Lilly said Palkowitz's responsibilities have been assumed by Dr. Bret Huff, vice president of small-molecule design and development.
Chasing deals
At the JPMorgan conference, Ricks said striking deals to obtain promising drugs from outside parties will allow Lilly's internal R&D teams to put "a sharper edge on decision-making and allow us to really work on the most valuable things inside our company."
As Lilly's deal-making ramps up, it will have plenty of competition. Industry consultants are predicting a surge of life sciences M&A activity this year, aided by U.S. tax changes and the need for some companies to shore up aging pipelines.
In just the first few days of 2018, pharmaceutical companies have bid more than $11 billion for biotech companies, including Celgene Corp.'s acquisition of Impact Biomedicines, which is developing a drug for blood cancers; and Takeda Pharmaceuticals' acquisition of TiGenix, which is developing a cell therapy for inflammatory autoimmune diseases.
"I believe you will see a higher proportion of innovation at an industry level … coming from external sources," Novo Nordisk's chief financial officer, Jesper Brandgaard, told Reuters.
And unlike a decade or so ago, when a pharmaceutical company could patiently wait for a startup to take a drug through early and middle stages of development to see if it might work, bidders are forming stampedes earlier in the process.
"If a biotech company has a compound in Phase 1 or Phase 2, and it looks like it works, it becomes pretty hot property," said John LaMattina, senior partner at the Boston biotech firm PureTech Health, and former president of Pfizer's research and development. "Biotech companies are being bought out, sometimes before they even start clinical studies."
The frenzy is good news for small biotechs, which often struggle for funding and expertise in the critical early years of drug development.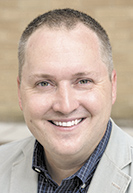 Trebley
"What we see is a number of pharmaceutical companies willing to come in early and engage," said Joe Trebley, CEO of Monon Bioventures in Fishers, which helps early-stage life sciences companies develop products. "That's important not just because of the funding they provide, but the talent and experience that they have in dealing with regulators, enrolling patients and so forth."
Strategic shift?
A key question is whether the wave of departures from discovery chemistry would mark a big shift away from Lilly's focus on chemical drugs.
Chemical drugs, sometimes called small-molecule drugs, account for some of the largest sellers in Lilly's portfolio in recent decades, including the antidepressant Cymbalta and osteoporosis drug Evista. Small-molecule drugs are synthesized by chemical reactions between different compounds.
On the other hand, large-molecule drugs, sometimes called biologics, are produced in a biotechnological process, often using genetically modified cells. They represent a growing part of Lilly's product line, including Cyramza for cancer and Erbitux for chemotherapy.
Biologic drugs represent a growing wave in the pharmaceutical world. The drugs are able to target some diseases and body parts that chemical drugs have been unable to reach. In addition, they tend to be more specific, and therefore safer, because they don't act broadly throughout the body, LaMattina said.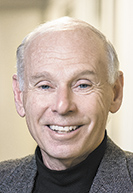 LaMattina
"The industry is going heavily to biologics for those reasons," he said.
In recent years, Lilly has been boosting investment in biologics, which now account for more than half of its clinical-stage pipeline.
The company, however, said the recent wave of departures in its discovery chemistry group does not mean it's reducing its commitment to small-chemical drugs.
"In terms of scientific focus, Lilly is committed to researching and developing both small molecule and large molecule medicines," Lilly's Taylor wrote. "As such, discovery chemistry remains a very important area for Lilly Research Labs, and we will continue to make significant investments in our capabilities."
The company is nearing completion of a new small-molecule design and development facility at its Lilly Technology Center on Kentucky Avenue. It is scheduled to open this spring.•
Please enable JavaScript to view this content.