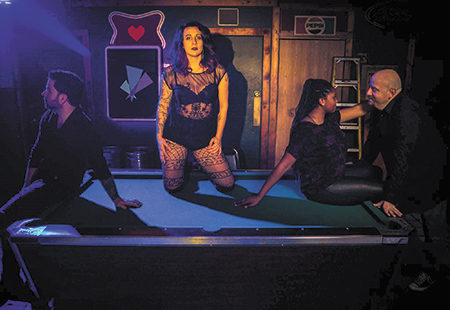 Since 1956, Footlite Musicals has built a reputation as a theater for all with volunteer productions of classic musicals.
But while Footlite's bread and butter might be works by the likes of Rodgers & Hammerstein, it has also introduced audiences to many shows unlikely to be seen on other area stages. "Priscilla Queen of the Desert," "Big Fish," "The Bridges of Madison County" and other next-generation efforts have had their local debuts—and sometimes their only local productions—here.
And while this season at Footlite includes such familiar titles as "Singin' in the Rain," this month offers a decidedly steamier choice: "Murder Ballad," running Jan. 11-20.
Not familiar with "Murder Ballad"? That's no surprise. An off-Broadway run in 2012 brought it to the attention of musical-theater aficionados but not to the general public. And its plot—woman breaks up with bartender boyfriend, gets married in part for respectability but is drawn back to an affair with her ex—clearly separates this from the likes of "The Sound of Music" and "Mame."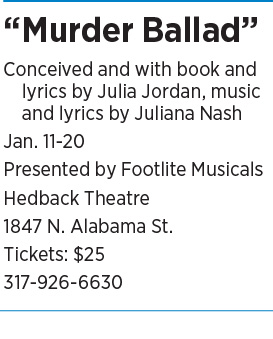 Bradley Lowe, who will direct the show, initially encountered "Murder Ballad" thanks to Amazon.com. A customer had given him a gift card, and Amazon's algorithm offered the show's original cast recording as a top recommendation.
"It was so cool," Lowe said. "It starts with a record scratch and then the narrator lures you in. It's all set in a bar that doubles as everywhere else. There's murder in the title so you know someone is going to die. I sat there listening for the first time trying to figure out, 'Who is the murderer?' and 'Who is going to be murdered?' It's storytelling at its best."
So how did this noir thriller end up at Footlite?
It's helpful, first, to understand Footlite's play-selection process. Rather than simply have an artistic director and/or board of directors pick shows, the company solicits proposals from potential directors. It then narrows the list and invites a handful of directors in to pitch their projects live.
"No one knew the show," Lowe said. "They told me, when it first came across the table, 'You are going to have to really sell us on this. We don't see how it's marketable.'"
"Shows that aren't household names," he said, "are challenging to any theater.'"
An additional challenge: Lowe, by day a project manager for tech company MOBI, had acted at Footlite since 2004 in such shows as "Miss Saigon" and "Bye Birdie." But although he studied directing at Millikin University in central Illinois, he had not directed locally. To make his case, he went all out in his presentation, covering everything from set-design ideas to casting and costumes.
The board's reaction: "We're still not sure if we're sold on 'Murder Ballad,' but we're sold on you."
Lowe made it his mission to see "Murder Ballard" productions elsewhere since, he said, "there's so much room for interpretation." He made treks to Ohio, Michigan, and to Cardinal Stage in Bloomington to see other approaches to the material.
"Every production I've seen, I felt like I was on the outside looking in," he said. "But I want the audience to feel like they are in the room where everything happens. I wanted the audience all around with the actors using the whole space."
That means putting tables on the stage and a pool table, a bar, and more seating in what is usually the audience space. Before the show, patrons can buy drinks at the same bar.
The show is sung through—which means that, like "Les Miserables," there is wall-to-wall music. Where a traditional musical might have a dozen songs, "Murder Ballad" has 39 packed into 80 intermission-free minutes.
Lowe was initially nervous about finding the vocal talent he needed but discovered it wasn't hard at all. "I was worried we'd get a lot of traditional musical theater sounds—and I'm one of those people—but we've got a great mix," he said of his cast. "I'm in awe of their talent and texture."•
Please enable JavaScript to view this content.