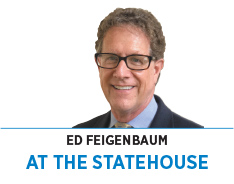 The annual legislative parlor game asks what issue will crop up this session and disrupt leadership efforts to efficiently manage the proceedings.
Sometimes this is a partisan clash, but more recently—with super-minority Democrats unable to throw the proverbial monkey wrench into the process—this phenomenon has morphed from the partisan to the philosophical or fiscal realm.
A late-session abortion bill maneuver in 2015 split House Republicans more along gender lines than anything else (and is pending review by the U.S. Supreme Court this week).
A $100 million loan to the Indianapolis Motor Speedway caught many off guard late in the 2013 session, causing a split among the haves (Indianapolis and the doughnut counties) and the have-nots (the rest of the donor counties).
Then, of course, there was the unforeseen total meltdown on the final night of the 2018 session that was the confluence of a series of bizarre GOP-internal circumstances.
Given all that, what should you watch for in 2019? As the old saying goes, "If I knew what I was looking for, it wouldn't be research," and no one can tell you what might pop up to throw the session into a tizzy.
Still, there are some issues with the potential to prevent 2019 from proving Indiana is a state inverse in functionality to the federal government (as we've been led to believe by those whom we've sent to D.C. pledging a dose of "Hoosier common sense" there).
The obvious hot-button issue that could be a catalyst for breakdown is the bias-crimes measure.
Two sessions have passed without being able to "thread the needle" or "find the sweet spot" on this. The rhetoric in the two chambers has been ramped down, even as caucuses appear split. GOP leadership on both sides of the rotunda can't seem to agree on a framework, and Republican Gov. Eric Holcomb pushes hard for the business community's desired delineation of a specific list of covered classes.
There wasn't all that much angst when the concept fell by the wayside in the Senate over the lack of a 2018 caucus consensus. But with 50 percent turnover there in the last six years; a decision by new Senate President Pro Tem Rodric Bray, R-Martinsville, to hold all versions in his Rules panel until they can decide its direction (timing suggests not before mid-February); gubernatorial guidance that was lacking last year; and increased support for a new law in polls, there is more momentum this year.
The House will grapple with competing measures from Rep. Greg Steuerwald, R-Danville, and Rep. Tony Cook, R-Cicero. The more specific proposal from Cook, Ryan White's high school principal, seems to be the one more likely to emerge—and he's adamant that it not be amended.
Education funding will also be a nonpartisan issue, dictated by budget constraints and how much micro-management lawmakers choose to exert on local districts. Expect more money made available for schools and teacher salaries than you're hearing about now. Because it's not as easy to get riled up about the question of "how much" as opposed to "whether," so this shouldn't prove as divisive in April as it might seem in January.
Pay attention, however, to Capital Improvement Board funding issues—Indiana Pacers and Indy Eleven stadium and convention hotel funding—that will be framed in the context of Indiana Convention Center expansion. This is a non-starter with out-state lawmakers, and must be wrapped up into the budget to succeed.
Watch also for a battle over legislative vs. executive prerogative on the Indiana Toll Road lease amendment providing $1 billion for the governor to spend. Lawmakers didn't like this surprise, and want to control the appropriations, which portends an interesting fight with a governor likely to be around for six more years.•
__________
Feigenbaum publishes Indiana Legislative Insight for Hannah News Service. He can be reached at edf@ingrouponline.com.
Please enable JavaScript to view this content.