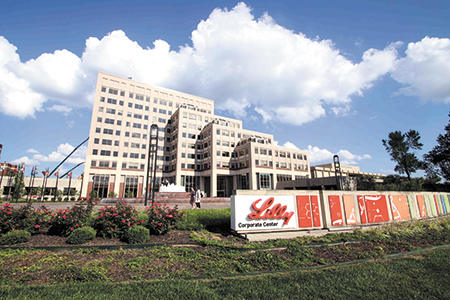 Shares of Eli Lilly and Co. tumbled 3 percent on Friday after the company announced that a late-stage study combining its promising new cancer drug, Lartruvo, with a chemotherapy drug didn't help patients with a rare form of cancer.
The Indianapolis-based drugmaker said patients with advanced soft-tissue sarcoma—malignant tumors that grow around fat, muscle, blood vessels and tendons —did not show improvements when taking a combination of Lartruvo and doxorubicin, compared to taking doxorubicin alone.
Lilly said it was suspending promotion of Lartruvo and said the results "do not support initiating treatment" of the drug in patients with soft tissue sarcoma.
Shares of Lilly fell $3.63, or 3.1 percent, in mid-morning trading. The company said it expects to incur a pre-tax charge in the first quarter in the range of $70 million to $90 million, or an after-tax charge of about 10 cents a share.
In addition, Lilly said it expects the news to have an impact of about 17 cents a share on the company's full-year 2019 earnings guidance.
The Food and Drug Administration had given accelerated approval in 2016 for Lartruvo, also known by its generic name, olaratumab, to treat patients whose soft tissue sarcomas couldn't be treated using radiation or therapy.
Analysts had predicted that the drug could eventually ring up as much as $600 million in annual sales.
"Lilly was surprised and disappointed that Lartruvo did not improve survival for patients with advanced soft tissue sarcoma in the study," said Anne White, president of Lilly Oncology.
Soft tissue sarcoma is hard to diagnose and difficult to treat. In 2015 in the United States alone, an estimated 12,000 people were diagnosed with STS and 5,000 people died from the disease.
Please enable JavaScript to view this content.