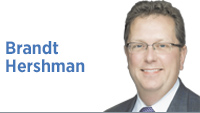 While the government shutdown has the media focused on construction of a border wall, the debate rages on without thoughtful scrutiny of the underlying issues surrounding why we might want to build one in the first place.
Lost in the headlines are a number of questions.
First, what are the economic and political conditions in the home countries of immigrants that make them willing to risk illegally entering the United States in the first place? In Arizona alone, the remains of 127 migrants were discovered in 2018. Choosing to strike out across the desert is clearly an act of potentially deadly desperation.
While the U.S. cannot and should not be the world's police force, using our diplomatic and economic influence to encourage meaningful reform in neighboring countries would seem to be a prudent course both for U.S. interests and for the cause of freedom and human rights in general.
And yet the media has paid little attention to the strife in many areas of Latin America—issues that long predate the Trump Administration.
It's also worth considering that in a time of near full employment and with a strong U.S. economy, the addition of immigrants who share our country's work ethic and values is a good thing. As I talk to people, this is rarely the subject of controversy.
The key point of contention for many is not whether we allow people to emigrate to the United States, but rather whether they do so legally. And unfortunately, becoming a U.S. citizen can be a long, expensive and arduous process.
This begs a question, largely unexamined by both parties, about current immigration policies: Are they working? And if not, why is meaningful immigration reform not a key element of the debate?
The issue of how to resolve the status of illegal immigrants already in the country is challenging. But basic reform of the system for people who wish to follow a legal process to become citizens should not be.
Based upon my observations as a former elected official and congressional staff member, the current immigration system is badly in need of an overhaul. I've personally witnessed the travails of multiple professionals with advanced degrees and good jobs in the U.S. who have spent enormous amounts of time and money trying to become legal residents.
It's in our national interest to attract the best and brightest from other countries and welcome them as part of our American democracy. It's equally important to ensure the safety and security of our country by keeping the scourge of criminal activity, the drug trade, and terrorist activity outside our borders. But solutions to these issues are not mutually exclusive.
My ancestors came to this country in the late 1700s. They were willing to pay their taxes, learn the language and follow the laws of our country, and they were welcomed and proudly became U.S. citizens. Today, for those of limited financial means and legal sophistication, that dream can be far more difficult to achieve.
My disappointment with the government shutdown and lack of meaningful compromise rests in the thought that it is far too simplistic for both sides to only focus on a wall. Given meaningful immigration reform, I believe the U.S. could welcome the very type of people we want as Americans – not as illegal immigrants, but as American citizens.
At that point, construction of a wall would serve as a means of additional security against drug trafficking, potential terrorist infiltration and the admission of people who would not qualify for entry under legal means.
Border security should be a shared national goal, and so should a reasonable path to citizenship for those who want to pursue the American dream legally and responsibly.•
Click here for more Forefront columns.
__________
Hershman previously served in the Indiana Senate. He currently serves of council in the federal practice group of Barnes and Thornburg LLP in Washington, D.C. Send comments on this column to ibjedit@ibj.com.
Please enable JavaScript to view this content.