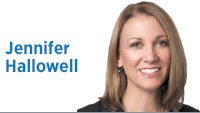 In his State of the State address, Gov. Eric Holcomb rightly concentrated his focus on workforce development. Educating and training Hoosier workers and attracting top talent to Indiana must be priorities to achieve long-term success for our state.
Indiana's economy is strong. At 3.6 percent, our unemployment rate is lower than all of our neighboring states. We're consistently ranked among the best states in the nation for business climate, and we continue to attract record investment and jobs. In 2018, nearly 300 companies committed to creating more than 30,000 new jobs and investing more than $7 billion in our state.
These jobs are not just in traditional Hoosier industries such as agriculture, manufacturing and logistics; they're increasingly in technology. In fact, a quarter of these new jobs are in the tech industry. Indiana is quickly gaining a reputation as the tech hub of the Midwest. Indianapolis ranked fourth in the nation for technology job growth last year, according to U.S. Department of Labor statistics.
This is all good news for Indiana's future growth potential. But as our workforce needs change, our worker training and talent pipeline must too. According to the Indiana Chamber of Commerce's 2018 Workforce Trends Survey, more than half of employers said they left jobs unfilled because they couldn't find qualified candidates, and one-third cited this as their biggest challenge as a company.
A recent tech industry study by Indianapolis-based Powderkeg underscores the issue, citing talent recruitment as the most significant and costly challenge facing the industry.
Ensuring Indiana's workforce can meet the demands of our modern economy is critical. To do so will require not only changing how we train our workers, but also increasing our ability to attract out-of-state talent. During his State of the State address, the governor announced plans to address both.
To train and skill up our workforce, Holcomb is directing more focus on industry credentials and trade certifications. He set a goal of ensuring that 60 percent of Hoosier workers have a high-value credential that can strengthen their employability. He also plans to double funding for Employer Training Grants to help Indiana companies hire and train workers to fill available jobs.
The General Assembly is currently considering bills to expand career and technical education (CTE), provide more weight to CTE credentials in high school, and encourage more employer engagement in our school system.
Perhaps the more difficult challenge, though, is attracting talented workers to relocate to Indiana. Beyond being affordable and low-tax, Indiana needs the infrastructure, vibrancy and quality of life amenities to set us apart.
Gov. Holcomb is proposing ways to improve Indiana's quality of place. He's working to make Indianapolis the Midwest destination for nonstop international flights. He also announced plans for the state's largest-ever single investment in high-speed broadband, which a quarter of our state currently lacks.
And though it's predicted to be a lightning rod during this year's legislative session, the governor doubled down on his support for a bias crimes law to expand protections for victims of crimes fueled by hate. The business community has also prioritized this as an important component to demonstrate that Indiana is a diverse and welcoming state.
Indiana is poised for record growth and success in the coming years, so long as we embrace opportunities to adapt and change. Thankfully we have a governor who not only gets it, but is leading the way.•
Click here for more Forefront columns.
__________
Hallowell is president of Hallowell Consulting LLC, a government affairs and communications consulting firm. Send comments to ibjedit@ibj.com.
Please enable JavaScript to view this content.