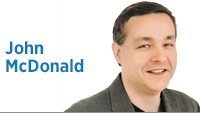 Indiana's gross domestic product ranks 16th nationally, according to a 2018 PwC/CB Insights Money Tree report, but the state ranks low—39th, and last in the Midwest—in venture capital deployed to homegrown companies.
This statistic is depressing, since venture capital is oxygen to startup companies. We use it like a growth hormone for hiring and building market presence. That's why the Kauffman Foundation, a Kansas City-based research group focused on entrepreneurship, reports that new businesses are our country's job creators.
Indeed, companies less than 5 years old account for ALL of the net new job growth. Put simply: no new startups, no net new jobs.
However, what brings a new company and those jobs to fruition? It isn't simply an idea, but the courage to act on that idea, risking everything to make it happen. That's the only differentiator between an entrepreneur and anyone else. Get buy-in to help you grow your idea, then source both the right people and resources to make it work.
That buy-in happens at different levels. There are many ways to get $10,000 from individuals and organizations based in Indiana, fewer ways to get $100,000, just a handful of ways to get $1 million, and not a single way to get $10 million.
The first tier, $10,000, generally comes from friends and family. These are the people already interested in you, the entrepreneur. They are investing because of that personal relationship and would do so even if you needed the money to make home repairs instead of start a company.
The next tier, $100,000, generally comes from a classification of investors called "angels," typically wealthy individuals interested in supporting technology companies at an early stage. The practice is not much different from betting, with decisions based on confidence in the entrepreneur and the amount of time, or "protectable market," leadership has to make a successful go of it.
In Indiana, we have a Venture Tax Credit that enables angels to receive 20 percent of their investment back as a credit on their state taxes, which has the effect of reducing risk and enabling more money to flow. This is a great start, but neighboring states such as Kentucky go further. That issue is currently on Gov. Eric Holcomb's legislative agenda, and our industry stands in full support.
The next tier, $1 million, has been boosted by Elevate Ventures, which uses state and federal funds to help channel capital to companies. The Elevate team often engages with angel investor groups to find companies to invest in—called "deal flow"—and frequently encourages angels to co-invest with them in companies. There are a handful of private organizations in Indiana whose investments rival Elevate, but helping to create more of these organizations and pushing them toward the nearly vacant $10 million range is the focus of the Next Level Fund.
Finally, capital-hungry tech firms seeking at least $10 million have two viable options: Sell to a larger firm adding to its portfolio, called a "strategic buyer," or find a deep-pocketed private investor interested in becoming the main or only investor as a "private-equity buyer."
In the end, it all comes back to readily available capital. If ideas are free, but capital here is scarce, Indiana's ideas and entrepreneurs will be underdeveloped compared to other places. And when it comes time to scale, they will more often than not be folded into companies elsewhere, benefiting those outside of Indiana instead of feeding our local virtuous cycle.
That's why catching up to—and exceeding—our neighbors in this arena is critical not only to our industry, but also to job growth in the digital economy.•
Click here for more Forefront columns.
__________
McDonald is the CEO of Fishers-based ClearObject and chairman of the Indiana Technology and Innovation Policy Committee. Send comments to ibjedit@ibj.com.
Please enable JavaScript to view this content.