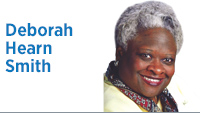 This will be a pivotal year for us as Americans and Hoosiers. What direction will we go? We are at a crossroads that will define us as a nation and state for generations to come. What principles do we hold dear and what is just rhetoric?
On the state level, two issues will determine what kind of state Indiana wishes to be as we move forward. I heard Gov. Holcomb in his State of the State address lay out jobs as the top priority for this administration. No one can argue against improving the workforce and what that does to lift the community. If the work provides a living wage, it serves to stabilize the entire society.
As important as that is, I offer two other issues that are directly tied to this focus on jobs: hate-crimes legislation and teacher pay.
It is an embarrassment that Indiana—which would like to claim it's a great place to live, work and play—cannot open its arms to all people.
I cannot imagine reasonable adults looking over a list and discussing whom it's OK to hate. Then I look at the Legislature and I am reminded that the majority of the decision makers have never been on the receiving side of hate because of race, religion, country of origin, or gender identity.
It is disappointing that a moral argument is used to defend intolerance. Family values was the buzzword when Bill Clinton was in the White House, but you never hear those words now that Donald Trump is in office.
So let's leave the religion pontification at church and agree that, in the state of Indiana, no one will be allowed to mistreat anyone for any reason. The result will be a state where a growing, vibrant workforce wants to live, work and play.
The next issue is teacher pay. Everyone gives lip service to supporting pay increases for classroom teachers, but the stumbling block is making sure money allocated to education actually gets to teachers.
Because we hold local control of education sacred, we value preservation of the system above the welfare of our children. But the main competition for our students when they enter the workforce will not be from the neighboring school district or next county—it will be global.
It is imperative that, as a nation, we have the world's best-educated citizens.
We are losing the education battle and will continue to as long as we have a system that guarantees unequal educational inputs and outcomes. Our local school boards are good people trapped in a system designed for a bygone era.
Just think of the time and resources used to simply give our teachers a statewide pay increase. This will not even begin to address the inequity in pay from district to district.
First, let's make sure this is the year teachers are recognized as the main ingredient for a successful education system by ensuring that money allocated gets to them.
Then, let's begin to address education on a wider scale and be ready to answer not only what constitutes good education in one of Indiana's 291 school districts but also the bigger question: Will the current system produce young people ready to compete on a global stage?
The reality is that a well-developed curriculum that takes a world view would lead us to a more tolerant and kind society.•
Click here for more Forefront columns.
__________
Smith is former CEO of the Girl Scouts of Central Indiana. Send comments toibjedit@ibj.com.
Please enable JavaScript to view this content.