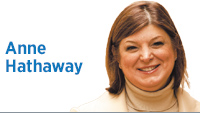 As a proud Hoosier and the daughter of a Navy veteran, I felt honored to have the commanders of the USS Indianapolis and the USS Indiana in our state at the same time for the first time in history, to attend Gov. Holcomb's State of the State address Jan. 15.
I am sure that, as a Navy vet himself, the governor was honored to have these commanders whose ships were both christened in 2018 in the "House" for his speech.
The USS Indianapolis was christened in April and is the fourth vessel to bear the name of our capital city. It is a Freedom-class littoral combat ship—a small, multipurpose warship used for mine-clearing and anti-surface warfare.
The USS Indiana is a nuclear-powered Virginia-class attack submarine christened in September. This type of submarine is used to carry out intelligence, surveillance and reconnaissance missions. The USS Indiana provides its crew members, who call themselves Hoosiers, with the latest in stealth intelligence gathering and weapons-systems technology.
The presence of these naval officers at Holcomb's annual State of the State address inspired me to consider why so many of our young citizens answer the call to duty in the Navy and our other armed forces.
Part of it is patriotism. Some kids just grow up wanting to be—pick one—a sailor, a soldier, a Marine, an airman or a "coastie." Some are adrift after high school or college and are lured to military service in a quest for adventure, to earn a paycheck or to just "find themselves."
And others answer the call because of a catchy slogan, aimed at all the above.
For example: Over the years, the U.S. Navy has used, "It's not just a job, it's an adventure," "Let the journey begin," and "Navy, accelerate your life." But the slogan that would lure me to the recruiting office was "America's Navy: a force for good."
It's simple, and yet it strikes me that, when you really boil down the mission of our military, it is to be a "force for good." And really, isn't that the mission of our government, be it local, state or federal?
The inspiration needed to raise your hand to serve and protect the freedoms of U.S. citizens and to stand up for our allies is the very same inspiration needed by those who enter public service through the ballot box.
Of the 535 members of the 116th Congress, 95 are U.S. military veterans. These men and women are bringing their servant-leadership mentality to our federal government. They understand teamwork, sacrifice and working for a greater good.
The same goes for our state government. The governor and our Legislature have big goals for 2019 and beyond: increasing teacher pay, standing strong against targeted violence, strengthening public health, attacking the drug epidemic, continuing infrastructure improvements like the Interstate 69 extension, and developing a 21st century work force.
Servant leadership is an acquired skill, but that is exactly what we demand from our local, state and federal government leaders. When it all comes together and folks on both sides of the aisle work toward common goals, we really have a chance in Indiana to be "a force for good."•
Click here for more Forefront columns.
__________
Hathaway is president and CEO of Hathaway Strategies, chairwoman of the Julian Center board and former chief of staff of the Republican National Committee. Send comments to ibjedit@ibj.com.
Please enable JavaScript to view this content.