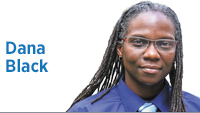 The new year brings Indiana municipal elections, the not-so-glamorous elections that have more impact on your lives than the much-hyped presidential elections. But for some reason, citizens tune out during this election cycle.
People want to know who will run for president and for governor in 2020, completely ignoring the races taking place in 92 counties this year. This is not a small election cycle when you consider mayors, city councils, city clerks and city judges are all on the ballot.
These are the very people who make the decisions about your city's direction.
We have a tendency to dismiss municipal elections because they don't seem as sexy as statewide and federal elections. On the contrary, I would suggest there is no more high-profile race than that for mayor of Indianapolis.
Many folks around the state get tired of our state politics being Indy-centric, but considering that Indianapolis has the state's largest population, largest tax base and largest public school system, it deserves the attention.
To control Indianapolis and its economy would mean increased control over the state's economy. Currently, we know Democratic Mayor Joe Hogsett is running for re-election, and Republican State Sen. Jim Merritt, fresh off his narrow 2018 re-election, has thrown his hat into the ring.
I worry about someone like Merritt being the principal manager for the city of Indianapolis, because his General Assembly voting record suggests he is not in favor of advanced environmental protections.
On Nov. 6, 2017, Indianapolis Star reporters Emily Hopkins and Sarah Bowman detailed how Merritt and other Republican supporters of Senate Bill 309, the net-metering legislation, were recipients of significant campaign donations from PACs representing Indiana utilities while he was chairman of the Senate Utilities Committee. So, was Merritt looking out for the future of Hoosiers and the environment, or was he looking out for those who had enough money to pad his campaign coffers? Just asking.
Merritt's voting record suggests he is not in favor of protecting the rights of the LGBTQ+ community. He consistently voted for multiple iterations of RFRA, the legislation that would allow discrimination of LGBTQ+ folk in public accommodations—legislation that would make Indiana the laughing stock of the nation and threaten our modest tourism industry here in Indy.
When RFRA was finally passed, even Republican Mayor Greg Ballard rejected this legislation, but Merritt would not waver. Did he care about possibly missing out on millions in convention dollars?
And when it comes to hate-crimes legislation, Merritt's only concern seems to be off-duty law enforcement officers. That was all he's been able to offer up in the debate over Indiana's finally adopting hate-crimes legislation. When specifically asked if he would support a broader biased-crime bill in 2016, his response was that "the focus this year should remain on protecting police."
That must be comforting for the young Muslim woman who is targeted because she proudly wears her hijab, the Jewish community being targeted by Neo-Nazis, or members of the Hispanic community who are just trying to take care of their families.
I don't even have enough space to go into the impact of the council races; these are the legislative bodies of our cities. But if we sleep on these municipal races around the state, we run the risk of letting other people determine the direction of the places we call home.•
Click here for more Forefront columns.
__________
Black is deputy chairwoman for engagement for the Indiana Democratic Party and a former candidate for the Indiana House. Send comments to ibjedit@ibj.com.
Please enable JavaScript to view this content.