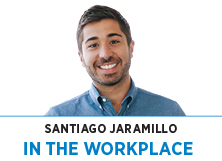 There's something about the new year that brings the promise of opportunity, both personally and professionally. For business leaders, it's a chance to take our organizations to a new level; tackle lofty goals; and create better, more engaging cultures for employees.
It's an especially promising time in the people-performance space right now. Technology and the human side of human resources are converging in an exciting way. Technology is changing the way people work, and leaders are no longer forced to make decisions based on gut feeling alone. Data is making it possible to measure employee engagement and allowing businesses to leverage their culture as a strategic advantage.
Here are a few workplace trends I'm seeing that will be significant in 2019:
1. Leaders will put their money where their mouth is and start activating company purpose.
In the October 1996 issue of Harvard Business Review, Jim Collins and Jerry Porras published their seminal piece "Building Your Company's Vision" on the sustainable advantages of purpose-centered organizations. Since then, leaders have been articulating their organization's core purpose (why the organization exists, aside from profit alone). And yet, few are effectively integrating that purpose into their organization. While translating purpose into real, measurable business goals takes effort, it's essential to compete for both talent and customer dollars.
This year, we'll see company purpose play a bigger role in both strategy and recruitment. Millennials are the largest generation in the workforce today and, according to research from Deloitte, 73 percent of them who work at a "purpose-driven" company are engaged, compared with just 23 percent who don't.
To win the hearts and minds of customers and employees, organizations will do more than talk a good game about company purpose. They'll share real stories of purpose impact realized and they'll weave it into the fabric of the company culture.
2. Employee engagement will no longer be a top-down initiative—midlevel managers will play a critical role.
Employee engagement is no longer a "nice to have." It's a strategic priority, necessary for success and growth. And what many executives are now realizing is that midlevel managers are essential to engagement company-wide.
For decades, organizations have been doing the ill-reputed "annual employee survey," where typically only executives see the full results and a watered-down version (if any) is communicated to the rest of the organization. The idea was "trickle down" engagement, which has proven ineffective and does nothing to equip mid-managers to make autonomous decisions for their teams.
3. Upskilling will play a bigger role.
Historically, HR leaders have focused on hiring for specific competencies and skills, with culture fit and soft skills as more of a secondary consideration. But today's skills gap, increasing automation and low unemployment levels have led to more focus on the training and development of existing employees. Hiring for soft skills and potential, and developing employees' technical skills over time, can boost retention, expand the talent pool, and provide a great ROI.
Oftentimes, bringing fresh new talent onboard is best. But investing in upskilling is generally more cost-effective than recruiting, hiring, orienting and ramping up a new hire (who may or may not turn over in a year, anyway). Existing employees who are given growth opportunities feel more valued and engaged and are more likely to stick around.
4. There will be more HR and C-Suite alignment on data-driven engagement and culture.
In 2019, employee engagement is no longer just "an HR thing." To remain competitive, today's executives must be all-in on people strategy and work side-by-side with their HR teams and midlevel managers to implement it.
Best-in-class company cultures often have certain qualities in common—a strong mission, strategic alignment, high relational trust, empathetic and transformational leadership, etc. But I see one strong common denominator among all top people-first organizations: They use data as a tool in as many business decisions as possible (even HR strategies).
Leaders who do this most effectively know exactly what their engagement and culture key-performance indicators are, how they'll measure them, and how to equip all managers in the organization with the data they need. These leaders create quarterly action plans that are hyper-focused and data-driven, and ensure their executive team, HR and midlevel managers across the organization are aligned.
I'm predicting 2019 is the year where the "talk" about employee engagement and culture becomes "action," calling us to a higher level of leadership and service to our teams and helping employees achieve their full potential at work.•
__________
Jaramillo is co-founder and CEO of Emplify.
Please enable JavaScript to view this content.