In 1983, I was expecting my first child and wanted time off after his birth. The Indianapolis Star hadn't had a pregnant reporter before, and with no precedent, generously agreed to my request for six months of unpaid leave.
By 2013, a federal law was in place that allowed me to take up to 12 weeks off, without pay, to discover whether I was capable of caring for two aged and ailing parents before I quit my job to become their full-time caregiver.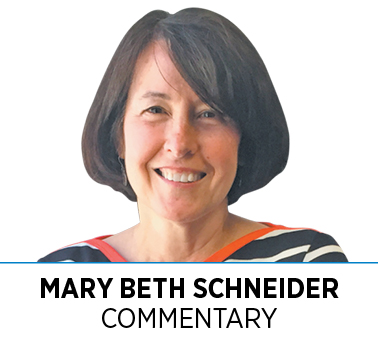 Both were vital to me as a mother, as a daughter.
But for far too many Americans, taking even a few days off for childbirth, a medical issue or to help an ill family member is impossible.
The federal Family and Medical Leave Act, passed in 1993, offers only unpaid leave and only to workers at businesses that employ at least 50 people.
For many, unpaid leave is equivalent to no leave. And for those at small businesses, there is no choice at all.
Erin Macey, a senior policy analyst at the Indiana Institute for Working Families, recalled one woman who worked at a South Bend distributing company. It offered unpaid leave, but working even a few days without pay was not an option. Two weeks after giving birth, she was back walking to the bus stop, walking to a job where she stood on her feet all day, then taking the bus home.
Stories like that—as well as her own family's experience caring for a dying parent—have compelled Sen. Karen Tallian, D-Portage, to seek a voluntary paid family leave insurance program in Indiana that would be available to any employee. She envisions people paying about $3 per week in premiums—or better yet, employers chipping in as part of a benefits package—that allows them to take some time off with from 50 percent to 100 percent of their salary covered, depending on the policy they bought. By creating a pool of people buying the insurance, many of whom may not tap into it for years, if at all, the funds would be available to pay those people who do need it.
In 2016, Tallian got a hearing on the bill, but no vote was taken. In 2017, her bill urging legislative leaders to create a study committee to look at the idea became law. The committee was never created.
Last year, she couldn't even get a hearing.
This year? For the first time, she had a Republican—Sen. John Ruckelshaus of Indianapolis—sign on as co-sponsor of her bill. And Sen. Phil Boots, the Crawfordsville Republican who is chairman of the Senate Pensions and Labor Committee, is giving the measure, Senate Bill 496, at least a hearing on Wednesday.
It was Ruckelshaus who came up with an idea that may make Tallian's dream more palatable to lawmakers: tax incentives. Employers who choose to contribute to the premium could take a tax deduction of double the amount they contributed.
"As a former small business owner back in the day, I never would have looked at this issue, right? It would have been, 'This is not the role of government, this is the private sector, etc., etc.,'" Ruckelshaus said.
But today, with unemployment at about 3.6 percent, "we're in a different world," he said. "I look at this as a small business and mid-sized business competitive bill." Those businesses are trying to recruit and keep employees, and the family-friendly policies that might attract them are now only at larger companies.
In 2016, Boots gave the bill a hearing because, he said, the idea of a family leave insurance program had merit. So why didn't he take a vote on it?
"My concern," he told me this week, "is it's just the beginning of a potential mandate."
That happened in New York, where the Legislature turned a voluntary program into a mandate. But it's not a possibility in Indiana's conservative Legislature, Tallian said, and not the intent.
"It's fundamental to this program but it should give some members of my caucus some comfort," Ruckelshaus said. "This is not big government. It's totally voluntary."
In fact, House Bill 1302—which would create a mandated paid leave—appears dead on arrival.
Tallian's dream may remain just that. But she isn't giving up.
"Sometimes you have to keep asking for a really long time," she said. "Whether you are just having babies or whether you are burying your parents, people across the spectrum need this."
Mary Beth Schneider is an editor at TheStatehouseFile.com, a news website powered by Franklin College journalism students.
Please enable JavaScript to view this content.