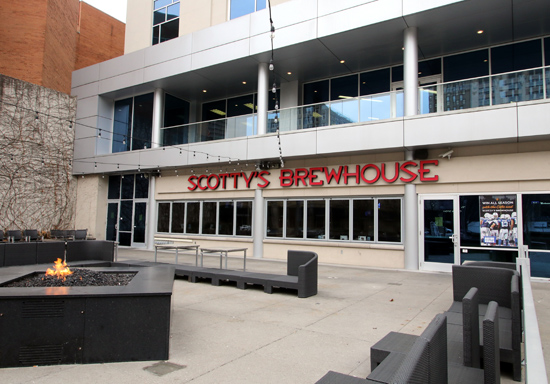 Two large shareholders in the company behind local restaurant chain Scotty's Brewhouse have filed a lawsuit against its founder, Scott M. Wise, alleging that he made false statements and failed to properly register their shares, causing the investors to lose more than $1 million.
In the suit, filed Tuesday morning in Marion County Superior Court, Michael Murray of Indianapolis and Mark Bosler of Fort Myers, Florida, say they invested a combined $1 million in Wise's ventures between 2009 and 2015.
"Wise solicited the investments from plaintiffs without an intention of pursuing profit or gain for Bosler or Murray, but rather as an overall plan or scheme to benefit and enrich Wise through his larger design of building up [parent firm] Scotty's Holdings to a position where he could sell the same at great personal profit and gain at the expense of plaintiffs Bosler and Murray," the suit says.
In a statement issued Tuesday through Jason Fulk, his attorney at Indianapolis law firm Hoover Hull Turner LLP, Wise said he was "disappointed to learn of the lawsuit."
"Mr. Bosler invested in Scotty's Brewhouse in 2009," Wise said. "Nine years later, in 2018, was the first time he ever suggested, through his lawyer, that I had somehow misled him in connection with his investment. The same can be said for Mr. Murray, who invested in 2015. … I did not mislead Mr. Bosler, Mr. Murray, or any other Scotty's Brewhouse investor in any way in connection with their decisions to invest in Scotty's Brewhouse. I intend to defend myself against Mr. Bosler's and Mr. Murray's false allegations and show that at all times I acted in the best interests of the investors."
Bosler invested $200,000 in 2009 and made more than $500,000 in loans to Wise over the next several years, the suit says. In 2012, the two agreed that Bosler's loans would convert to a 5.07 percent interest in Scotty's Holdings.
Murray struck a similar deal with Wise in 2015, converting his outstanding loans to Wise to a 5.25 percent ownership stake in the company.
Wise told both men that he intended to sell Scotty's Holdings for $20 million, which included expiring the company's $5 million in debt, the suit says. Wise reiterated this statement several times, including at a March 2016 investor meeting at which Bosler and Murray met for the first time, the suit says.
"Wise knew all along that the company would never sell for anywhere near $20 million, and that the Scotty's Holdings debt well exceeded $5 million," the suit says.
In November 2016, Wise told Murray that Wise was selling Scotty's Holdings to Arizona-based Due North Investments LLC for $10 million, and that Scotty's Holdings had $8 million in debt. 
"Given that their ownership share was insufficient to stop the sale, Murray and Bosler were fearful that if they did not sign the terms of the new deal being pushed by Wise, Due North and [Due North President Berekk] Blackwell, they would lose any chance of recouping their investments," the suit says.
The sale netted Wise a salary of $350,000 per year for five years, with a 5 percent payout if the Scotty's Brewhouse brand were to be sold again, the suit says, but Bosler and Murray were not told this at the time.
In 2017, Wise sent Bosler and Murray an indemnity agreement that would release Wise of all liability if he paid each man $500,000, based on certain company performance metrics, and an additional $50,000 each if the company met its sales targets. The agreement also stipulated that Bosler and Murray would have to pay $100,000 if they made any disparaging remarks to third parties about Wise.
Neither Bosler nor Murray ever signed the agreement, the suit says.
The suit also alleges that Wise violated securities law by selling Murray and Bosler Scotty's Holdings securities that were not registered under the Indiana Securities Act.
"The investors allege that they lost over $1 million combined because the securities were never registered, and because they were misled about the value of their investment and what percentage ownership they were acquiring," according to a statement from the law firm of Massillamany Jeter & Carson, which is representing Bosler and Murray. "The investors claim that Wise violated a duty to them as business partners when he sold the company and made himself millions while the rest of the equity holders got nothing."
The plaintiffs are seeking the return of their $1 million investment plus 8 percent interest and attorney's fees. The plaintiffs also ask for punitive damages, although they do not name a specific amount.
Scotty's Holdings filed for Chapter 11 bankruptcy protection last month, and as part of that the restaurant chain closed its downtown Indianapolis, Carmel, Muncie and Waco, Texas, locations.
"Mr. Bosler and Mr. Murray each voluntarily invested in Scotty's Brewhouse," Wise said in his statement. "When they invested, each of them acknowledged that he was offered access to all company information prior to investing and that the investment came with risk. When the investors sold their ownership interest in Scotty's Holdings, LLC in 2016, I owned 71 percent of the company. Unfortunately, the Scotty's Brewhouse chain experienced financial difficulties that adversely impacted the return to all investors, including me. With respect to my ownership interest, I have been treated no differently than the other investors."
This is not the first investor lawsuit to be filed against Wise. 
In November, an investor in Scotty's Brewhouse's Carmel location, Nairamat Investments LLC, filed a suit alleging that Wise defrauded him out of his $300,000 investment. That suit was filed in U.S. District Court in Fort Wayne.
Hoover Hull Turner LLP told IBJ in December that Wise planned to "vigorously defend against Nairamat Investments' false allegations."
 
Please enable JavaScript to view this content.