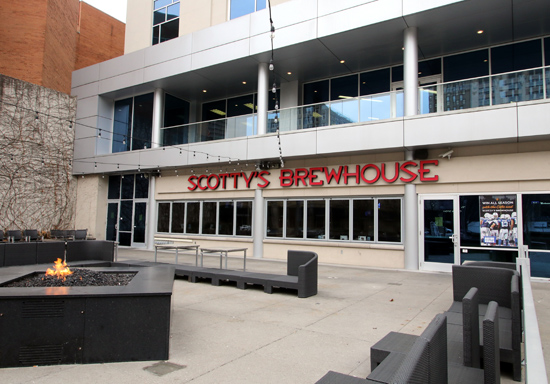 Indianapolis-based Scotty's Holdings LLC has filed for Chapter 11 bankruptcy protection and plans to close four of its Scotty's Brewhouse locations by the end of the year.
Restaurants in downtown Indianapolis, Carmel, Muncie and Waco, Texas, are slated for closure, Scotty's Brewhouse Brand President Chris Martin told IBJ. The downtown restaurant opened in 2009 and the Carmel restaurant opened in 2014.
"After a thorough analysis of our corporately owned locations as well as a shift in the overall business strategy, the company made the difficult but necessary decision to close underperforming restaurants," the company said in a written statement issued Wednesday afternoon.
The bankruptcy filings, made Tuesday evening in U.S. Bankruptcy Court in Indianapolis, involve not only Scotty's Holdings but 12 other related entities. They include three Scotty's Brewhouse locations in Indianapolis—3905 E. 96th St., 1 Virginia Ave. and Butler University—along with locations in Carmel, Muncie, Bloomington, West Lafayette, Mishawaka, Fort Wayne and in Waco, Texas.
Two other Indianapolis-based businesses also filed for Chapter 11 bankruptcy protection: Scotty's Thr3e Wise Men Brewing Co., which has locations in Broad Ripple and Muncie; and A Pot & Pans Production LLC, which provides management services for all Scotty's Brewhouse locations.
Scotty's Brewhouse Brand President Chris Martin told IBJ that the locations included in the bankruptcy filings are all corporately owned locations. Scotty's has a total of 17 Scotty's Brewhouse locations, seven of which it operates under management agreements. Those locations, Martin said, are not part of the bankruptcy filings. 
The unaffected locations are 4530 Southport Crossing in Indianapolis; Brownsburg; Noblesville; Champaign and Matoon in Illinois; Oxford, Ohio; and Poplar Bluff, Missouri.
Each of the 13 entities filed separately for bankruptcy protection, though the debtors have asked the court to consolidate all of the filings into a single case. 
Scotty's Brewhouse Downtown Indianapolis LLC, which operates the 1 Virginia Ave. restaurant, owes $292,340 in back rent to Indianapolis-based Jefferson Plaza LLC, according to court papers.
Scotty's locations at Butler University, East 96th Street and in Carmel, Bloomington and Fort Wayne also listed unpaid rent as their single largest unsecured debt.
Scottsdale, Arizona-based Due North Holdings LLC, which acquired the Scotty's chain in December 2016, was not named in the filings. But filings identify Due North vice president Berekk A. Blackwell as the sole manager of each of the debtors. Blackwell is also listed as manager of Scotty's Holdings LLC, according to Indiana Secretary of State records.
Due North and its bankruptcy counsel, Indianapolis attorney Lucy Dollens, did not respond to IBJ e-mails and phone calls seeking additional information.
Scotty's Brewhouse was founded in 1996, when Indianapolis resident Scott Wise opened a restaurant in Muncie after graduating from Ball State University. Wise opened the first Thr3e Wise Men, in Broad Ripple, in 2010. A Muncie location opened in 2015.
Please enable JavaScript to view this content.