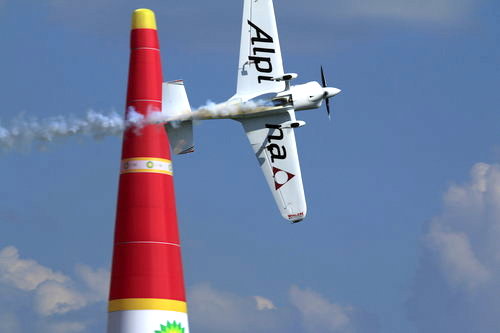 The Red Bull Air Race is returning to Indianapolis Motor Speedway for at least one more year, IMS officials confirmed Tuesday.
The Indianapolis race is set to take place Oct. 19-20, according to a schedule released by Red Bull Air Race organizers. The local event is one of eight races on the 2019 Red Bull Air Race World Championship circuit and the only one scheduled for North America.
The event is returning to IMS on a one-year contract after completing a three-year pact last year.
The latest local Red Bull Air Race, which took place Oct. 6-7, drew about 40,500 spectators, down only slightly from 2017, when it drew about 40,750 attendees. The race drew about 65,000 in its inaugural year in Indianapolis in 2016.
Alex Damron, director of communications at IMS, said both parties—the track and race organizers—"love the event and are committed to its success."
The deal "is through next year for now," he said. "But we're both hopeful the relationship lasts longer."
Speedway officials said they were happy with attendance at last year's race as well as the family-friendly crowd lured by the event.
The year's race schedule starts Feb. 8-9 in Abu Dhabi, United Arab Emirates. Other stops are slated for Kazan, Russia; Budapest, Hungary; Chiba, Japan; Saudi Arabia; plus still-to-be determined cities in Europe and Asia.
In Indianapolis last year, Michael Goulian became the first American pilot to win over home soil since 2008.
Please enable JavaScript to view this content.