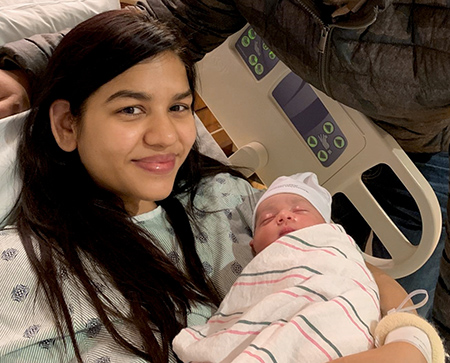 It's one of the few reasons people look forward to going to the hospital.
Giving birth is often a joyful occasion—planned for months and accompanied by baby showers, home projects and discussions over names.

But as hospitals know, it's also a big business.
Childbirth is the leading cause of hospital admissions in the United States—4 million hospitalizations a year, worth more than $50 billion in revenue. In Indiana, hospitals deliver more than 80,000 babies a year.
But that's just the beginning. For hospitals, maternity care builds relationships with young families that often last for decades. About 40 percent of women experience their first encounter with hospitals for reproductive services.
And health systems across central Indiana are investing tens of millions of dollars in new facilities and services to compete for maternity business.
From Franciscan Health Indianapolis' $37 million 2016 renovation of its Women & Children's Center to Indiana University Health's 2017 decision to spend $142 million on a maternity and newborn health center at Riley Hospital for Children, health systems are betting big on maternity services.
"Women are viewed as the medical decision-makers for the family," said David Blish, director of health care consulting at accounting and consulting firm Katz Sapper & Miller in Indianapolis. "So having a strong women's program theoretically engenders loyalty for the whole family, which can cascade into other areas."
Put in another way: If emergency rooms are one of the major "front doors" of a hospital, labor and delivery rooms are the other.
Unlike highly specialized services, such as organ transplants or burn treatment, which take place at only a handful of hospitals, obstetrical services are offered at nearly 100 Indiana hospitals.
In 2016—the latest year for which the Indiana State Department of Health has consolidated figures—81,777 births were scattered at 93 hospitals. (That did not include births at home or in specialty birthing centers.)
The hospital with the most deliveries was Community Hospital North, with 3,729 births. At the other end were an assortment of rural hospitals, often with just a few dozen births a year.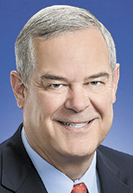 Abel
But amid the fragmentation, some health systems led the way. The largest player was IU Health, with 16.9 percent of the market (13,872 births at 10 hospitals).
In second place was St. Vincent (10.2 percent), Community Health Network (9.3 percent), Franciscan Health (8.8 percent) and Fort Wayne-based Parkview Health (4.9 percent).
Add that all up, and it's easy to see the largest health systems deliver dozens of babies a day, week in and week out.
"Some of them are baby factories," said Ed Abel, director of health care practice at Indianapolis-based Blue & Co., an accounting and consulting firm. "Newborn delivery is by far the largest encounter that an acute-care hospital will have with the community."
Healthier moms, babies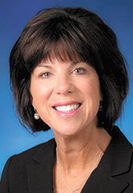 Schnieders
Yet hospitals are having to work harder to compete for business, because the pie is not growing.
In 2015, the birth rate in Indiana was 64.9 births per 1,000 women ages 15 to 44—down slightly from 65.9 births in 1990.
"The birthrate is flat across the country. I don't think Indiana is any different," said Julie Schnieders, vice president of the women's service line at St. Vincent. "Where we are different is trying to improve health of moms and babies."
That's a critical and troubling area for Indiana these days. Seven babies out of every 1,000 born here do not live to see their first birthday. They die of injuries, birth defects, sudden death syndrome and maternal complications.
That makes Indiana the 10th-highest in the nation for infant mortality, and first among all northern states.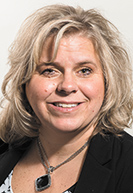 Gee-Weiler
That figure is dire enough to prompt health providers to work together to try to find a solution. Last summer, more than 100 health, civic and community leaders—including all major health systems—collaborated in an Infant Mortality Summit to search for ways to turn the situation around.
"It is important to remember that we work not as competitors, but as collaborators, with one common goal: to save Hoosier babies," Donetta Gee-Weiler, chief of Community Health Network's north region, said at the summit.
One of the reasons, in fact, for the state's largest health system, IU Health, to shift its maternity care from Methodist Hospital to Riley Hospital was to keep all newborn services under one roof.
While the bulk of IU Health's deliveries in Indianapolis are now at Methodist (more than 3,200 a year), Riley is home to one of the state's top newborn intensive care units.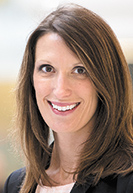 Kiefer
Currently, Riley is not a maternity hospital. On the fourth floor, more than 60 private rooms are dedicated to tending to newborns who were born prematurely or in distress at other hospitals. That newborn intensive care unit will stay in place.
The outpatient maternal-fetal medicine clinics from both Methodist Hospital and University Hospital will also move to the Riley campus. The entire project, now underway, is set to be completed by 2020.
"We want to take care of the sickest of the sick moms and babies," said Marissa Kiefer, vice president of Riley Strategy at IU Health.
Upping their games
Increasingly, hospitals are giving obstetrics the red-carpet treatment, building stand-alone women's centers that often connect to their hospital but have dedicated entrances, unique branding and plush amenities.
Four years ago, St. Vincent opened a 95,000-square-foot women's center adjacent to its Carmel hospital, which delivers more than 1,500 babies a year.
The center houses two large obstetric-gynecological practices, women's cardiac care, women's osteoporosis care, a breast center, a pelvic health center and more.
"The whole idea was to make it really convenient for women to take care of themselves, because we know women are always taking care of everybody else and leaving themselves last," Schnieders said.
At Community Health North, a women's center opened last year in an existing, five-story medical office building on the massive campus.
The center houses 21 obstetrician-gynecologists, three breast surgeons, and other specialists from cardiologists to endocrinologists.
Community Health administrators said the idea was to make it easy for women to get care—including those at the margins.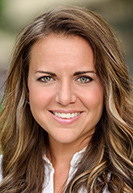 Wire
"They might not have a primary care physician," said Amy Wire, Community vice president for women's services. "But it we can get them hooked up with a gynecologist, we believe they'll choose that gynecologist when it comes time to deliver their baby. And then we will continue care throughout the lifespan."
At Franciscan Health, which delivers more than 2,000 babies a year in southern Indianapolis and more than 300 in Morgan County, the push to serve women's needs resulted in the multimillion-dollar renovation three years ago of its Women & Children's Center at its flagship hospital.
The upgrade at the 100,000-square-foot center included 12 expanded labor and delivery rooms, 36 postpartum suites, 24 private neonatal intensive care rooms and two operating-room suites.
Angela Bratina, the center's administrative director, said a growing emphasis is on high-risk obstetrical care.
"With the fertility rate in decline, we also know that women are getting married and starting childbearing later in life," she said. "And so with that comes high-risk pregnancies."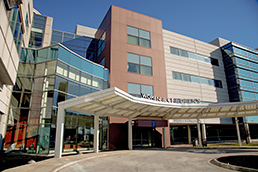 Franciscan Health Indianapolis spent $37 million on its Women & Children's Center in 2016. (IBJ photo/Eric Learned)
Eskenazi Health created an entire women's floor when the system opened its new hospital west of downtown six years ago. The dedicated floor includes all labor, delivery and postpartum suites, an emergency triage center, a 30-bed neonatal intensive care unit, and two operating rooms.
The hospital is in the process of constructing a dedicated women's entrance that will include parking, a garden and emergency access, said Lee Ann Blue, Eskenazi's chief nursing officer.
Many of the health systems say they are expanding their maternal-fetal medicine program—a subspecialty of obstetrics that focuses on managing the health of the mother and fetus before birth.
IU Health has 10 MFM specialists now and plans to expand in coming years. "We really want to be a leader in infant mortality reduction," Kiefer said.
Health systems are also stepping up their prenatal and birthing education, with an emphasis on healthy behaviors for moms during pregnancies and the infants afterward. A growing area is the push for safe sleep for newborns, so they don't die in their cribs from blocked breathing. Many hospitals are offering "sleep sacks"—wearable blankets that replace loose blankets in the crib that might cover a baby's face.
"When we're talking about babies dying before they're a year old, safe sleep is huge," said Schnieders at St. Vincent.
Larger strategy
All that investment in women's care is driven by a push for healthier outcomes—and a rush to build market share. Nationally, billions of dollars are at stake.
Childbirth is one of the most costly conditions for inpatient care in the U.S., according to Health Affairs, a journal specializing in the economics of health care.
The average cost to have a baby in the United States, without complications, is $10,808. Indiana ranks 25th among states for the cost of delivering a baby, according to FAIR Health, an independent consumer organization. In the state, a vaginal birth costs $11,837 ($6,347 with insurance). A Caesarean delivery costs $16,602 ($9,355 with insurance).
But for all that money, health systems don't consider maternity care to be a cash cow. In fact, between a third and half of births at many hospitals are paid by Medicaid, which typically reimburses at a much lower rate than private insurance.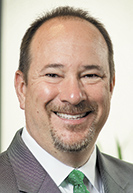 Blish
"Is obstetrics a huge profit center for a hospital?" said Blish of Katz Sapper & Miller. "Generally not the leader in terms of margin, but certainly a solid contributor."
Extra value, he said, comes from the reputation a hospital builds from providing top-notch maternity care and the referrals and "downstream activity," or care provided for a growing child.
While health systems are stepping up their maternity education and investing in multimillion-dollar facilities, they are also busy responding to a sweeping new statewide push on certification.
The state health department is creating the first-ever certifications for hospitals to rate their levels of care capabilities for maternity centers. The move is similar to the levels of care for trauma centers, and would let consumers know the capabilities of every hospital that offers birthing services.
A public hearing on the new rule is scheduled for 10 a.m. on Feb. 19 in the ISDH auditorium downtown.•
Please enable JavaScript to view this content.