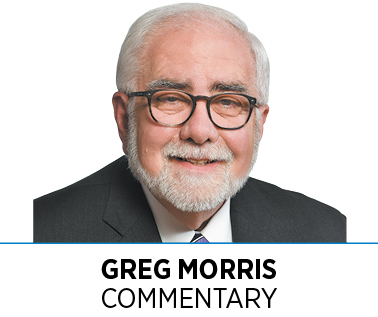 I'm fascinated by the business of law and have thoroughly enjoyed interacting with many legal professionals over the years—lawyers, judges, prosecutors, law school deans and professors, and the like.
Providing valuable resources to legal professionals, the Indianapolis Bar Association and the Indianapolis Bar Foundation have a strong history of service in central Indiana.
In 1878, 40 prominent Indianapolis attorneys, including future President Benjamin Harrison and future Vice President Charles W. Fairbanks, met and created the Indianapolis Bar Association. Growing from those first 40 members to more than 4,600 today, the Indy Bar strives to serve its members' needs, promote justice and enhance the legal profession.
With almost 28 years at the helm now, Indy Bar Executive Director Julie Armstrong skillfully helps guide the organization through annual officer change and industry transition. In fact, Armstrong's talents are nationally recognized as she is president-elect for the board of the National Association of Bar Executives. She will assume the top spot this year.
At a recent event at the Columbia Club, the gavel was passed to the 141st Indy Bar Association president, Thomas A. Barnard, a partner at Taft Stettinius & Hollister LLP, and to the 23rd Indianapolis Bar Foundation president, Mark R. Waterfill, a solo attorney practicing exclusively in employment law.
James Bell, attorney at Paganelli Law Group, is the outgoing association president and Rebecca W. Geyer, founder of Rebecca W. Geyer & Associates PC, is the outgoing foundation president. Thanks to these two accomplished leaders for their service this past year.
Additionally, a large contingent of respected members of the central Indiana legal community was sworn in as members of the 2019 Indianapolis Bar Association and Indianapolis Bar Foundation boards. You can find these leaders' names at indybar.org.
Here are a few comments by Taft partner and new Indy Bar President Tom Barnard from the leadership celebration event:
"Mark Twain said that the two most important days of your life are the day you were born, and the day you found out why. I believe that one of the reasons we were born is to improve the lives of others, and one of the best ways we can do that as attorneys is through the Indy Bar.
"Through the Bar's 250 programs we are improving lives around us. We provide legal services through free wills, our lawyers go to hospices, we answer phones, we go to libraries and schools. Our legal training is providing an essential key to doors that are blocking the lives of so many."
Regarding implementation of an idea to help others:
"…a member emailed Julie [Armstrong] with an idea—there are all these furloughed federal workers who aren't getting paid due to the government shutdown. They must have legal questions (landlord/tenant, creditors, child care). Indy Bar should do something! By the next day, Julie Armstrong had engaged two Bar Section chairs, emails went out, and on Tuesday, Jan. 22, a group of over 25 attorney volunteers were available for four hours to meet with these federal workers about their legal issues. This is really extraordinary. We are nimble—we are ready and able to help when the need arises. And it makes me so proud to be a part of Indy Bar."
I can personally attest that the Indy Bar has been blessed with strong leadership for the 28 years I've been at IBJ and our sister publication Indiana Lawyer. I expect this great tradition to continue as the new officers and directors take the helm for the upcoming year. Strong leadership at Indy Bar is definitely something to celebrate.•
__________
Morris is publisher of IBJ. His column appears every other week. To comment on this column, send email to gmorris@ibj.com.
Please enable JavaScript to view this content.