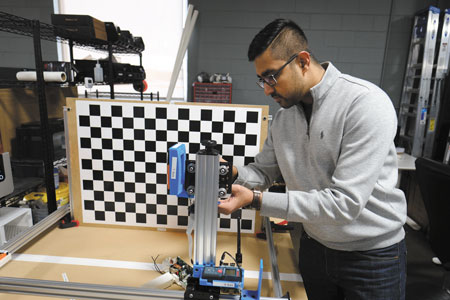 The Indiana IoT Lab in Fishers has fast become an oasis for tech firms big and small, as well as freelancers seeking to help companies turn their ideas about internet-connected devices into products.
The lab—the first of its kind in the region—has become so popular that its founder, John Wechsler, is close to hanging a no vacancy sign, less than 11 months after it opened its doors.
"We're at the point we just signed a couple of deals and all the major components of the lab are spoken for," Wechsler told IBJ. "The only thing we have available now is a couple of small spaces for individual entrepreneurs."
The internet of things—or IoT—refers to internet-connected items ranging from watches and dishwashers to vehicles and security systems. Lots of big companies play in the IoT sector, including Apple, FitBit and Amazon. But by its nature, the relatively new field is drawing scads of upstart players looking to be first to market with innovative ideas.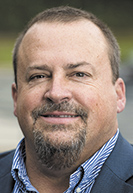 Wechsler
Though the growth of the Indiana IoT Lab—a sort of niche co-working space—has been dramatic, it hasn't taken Wechsler completely by surprise.
"I knew there was a market for IoT," he said. "The sense of urgency was to get it right. And I think we've done that."
As important as the volume of tenants is the mix, Wechsler said.
The lab has 17 companies, along with freelancers and other individuals. The tenants include ClearObject, Indiana University and Roche.
"We have a really good mix. We have all major areas of the IoT represented in house," Wechsler said. "We have design thinking, development, cloud data and application, edge [computing] technology, data analytics and cybersecurity."
The appeal of the not-for-profit Indiana IoT Lab goes beyond tenants. The lab also attracted several well-known sponsors, including the Indiana Economic Development Corp., city of Fishers, Comcast, Allegion and Indiana University. And the IoT Lab has already handled projects for John Deere, a Tier I automotive manufacturer, Allegion and Roche.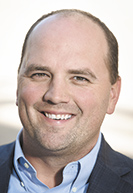 Fadness
"Those corporate types wouldn't come in here without confidence in our capabilities," Wechsler said.
The IoT Lab's budget is approaching $1 million annually and growing, said Wechsler, reflecting growth in sponsorships, programming, membership and tenants.
Up to 100 people are at the lab every day, and crowds get even bigger when the lab hosts an IoT-centric event.
The lab has one or two daytime programs hosted by sponsor companies every month. They cover topics ranging from light robotics to board-level developer boot camps. The lab also hosts three to four evening meet-ups a month that focus on IoT hardware, applications, new technologies like Blockchain and general startup business topics.
Wechsler said the events have played a big part in the lab's gaining traction with the local tech sector and corporate community.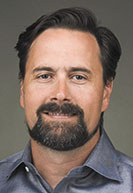 Fischer
In 2018, 50 IoT-inspired events helped bring 3,000 people to the facility. Events ranged from an AT&T-sponsored civic hackathon in April that attracted 500 people just one month after the lab opened, to an appearance in September by celebrity chef Robert Irvine that was sponsored by Comcast and demonstrated how restaurants can incorporate IoT in their kitchens and businesses. That event culminated in a dinner for 120 guests.
"Those events were incredible exposure for the lab," Weschler said. "They opened up a lot of people's eyes to the capabilities we had here."
Despite the demand, Wechsler has no intention of expanding the lab in the near term. "I don't think expansion is the order of the day now," he said. "We want to go deep in 2019 … and make sure everything is integrating."
Wechsler also plans to work on connecting the lab in Fishers to IoT Labs run by other organizations in different parts of the state. "We think there's real power in that," he said.
Fishers boost
But the Fishers lab has done wonders for the city all on its own, said Fishers Mayor Scott Fadness.
"The IoT Lab is a hot topic here. It's brought in a lot of guests and earned the city a lot of attention," Fadness said. "At its core, it reinforces that our community is one that innovates."

Fadness, a high-energy proponent of the tech sector, said he has been surprised by how quickly the IoT Lab has filled.
"When it opened, we weren't sure what to expect," he told IBJ. "Honestly, I thought it would take us longer to find our rhythm with the lab. It's not simply every guy with a backpack and an idea. The companies and people there are highly technical."
The IoT Lab provides a lot more than just space and an opportunity to be around like-minded people.
The 24,562-square-foot space has a wood shop with $10,000 worth of DeWalt tools and dust collector, a $17,000 laser cutter, a $3,000 3D printer and a $2,000 oscilloscope. Other equipment includes test and measurement equipment, a four-axis mill and two other milling devices. A vending machine is stocked with various sensor packs and other electronic equipment, and the lab also features collaboration space and other common areas.
"The IoT Lab is one of the very best places to build hardware. No place is as flexible and has as many resources," said Everett Berry, founder and CEO of Perceive, which occupies 1,000 square feet at the lab. Having "all the other hardware companies here is key for us. That and the equipment the lab has given us access to, all the electronics, mechanical design and manufacturing that we need."
Individual membership fees are $1,000 annually. A dedicated desk costs $150 a month; offices start at $750 a month.
The IoT Lab is also designed to attract investors to its tenants. Fadness said "that's coming a little more slowly." But he remains optimistic.
"There's still a bit of a learning curve with the internet of things," he said. "It takes a little more nuanced investor. The lab gives exposure to the IoT and exposure breeds familiarity."
Drawing investors
Berry's company—which offers automated coaching software for high-end sales associates—hopes to raise $400,000 for a "go-to-market war chest" this spring and said he's already made "several investor connections" through the lab. He said investor activity as well as tenant interactions are rising.
"There feels like there's no ceiling to the energy here," he said.
One thing Brandon Fischer, co-founder and CEO of Omni Automation, has learned since his company moved into the IoT Lab in December is that "every investor who walks through the door is IoT- and hardware-savvy."
"That's hard to find," Fischer said. "We're planning a seed round this year, and access to the venture capitalists and angel investors that come through the lab is key."
Omni makes smart-home automation systems. Fischer said the system he and Omni co-founder Stephe Blansette are building is so smart that it allows a home to recognize its occupants—including pets—and anticipate their needs through artificial intelligence and machine learning.
"We were at the stage where we needed to build a smart-home showcase—to show people this is unlike anything they've ever seen. We decided the IoT Lab is the place for Omni," Fischer said. "We're already working with other [companies] in the IoT Lab to incorporate what they do into our smart home."
Omni is planning an 800-square-foot home showcase complete with bedroom, bathroom, kitchen, and living and dining rooms to show off the company's capabilities.
"Through our space in the IoT Lab, we're getting exposure to a lot of groups. In addition to investors, there are engineers, manufacturers and other big brands coming through—all of which could have interest in what we're doing," Fischer said. "Even in the short time we've been there, the activity level has definitely picked up."•
Please enable JavaScript to view this content.