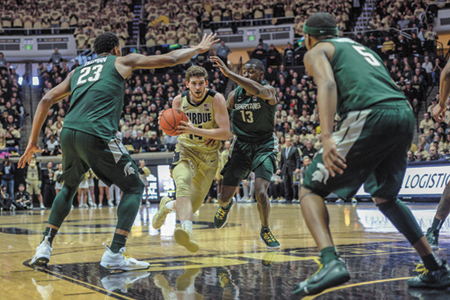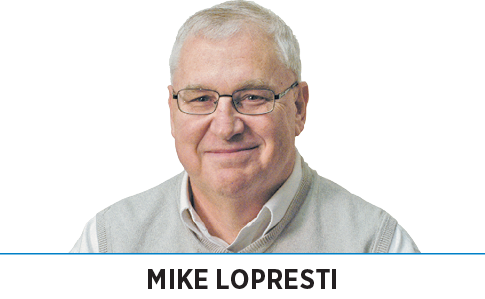 Saturday is Groundhog Day, and you know what that means. If the groundhog sees its shadow, we have six more weeks of IU missing 3-pointers.
February will tell us where a lot of teams are headed, so all aboard the Hoosier Hoops Tour. Seven days, seven games, checking on how things are going out there. A week of basketball in Indiana.
Jan. 22: Villanova, 80; Butler, 72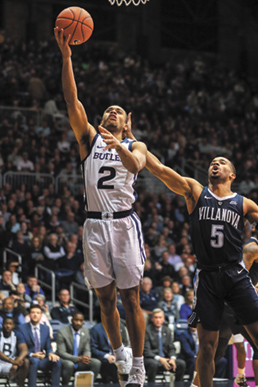 Butler guard Aaron Thompson's team-leading 15 points weren't enough to stop defending national champion Villanova on Jan. 22. (AP photo)
The first student fan is in line at 11 a.m. for the 7 p.m. game. Defending national champions draw like that. Butler, 11-8 and a victim of three one-possession defeats, must start padding its resume with flattering wins. Or else.
Doesn't happen this night. Villanova looks like, well, Villanova. LaVall Jordan sounds hopeful afterward: "I don't think we've seen 40 minutes of our best basketball yet, which is encouraging. But now you just have to have an unbelievable passion about improvement. This group has that."
It'd better. Butler has a reserved seat on the NCAA Tournament bubble, and among the five remaining road games are St. John's, Marquette and Villanova. "Our mentality is to take it one game at a time and go 1-0," Sean McDermott says, sounding a little like Frank Reich. It worked for the Colts, anyway.
Jan. 23: Pacers, 110; Toronto, 106
Can Indiana start beating the big dogs? That's the night's storyline—until the heart and soul of the team leaves on a stretcher. Victor Oladipo's knee looks so bad, even the Raptors applaud for him as he's carried away and LeBron James tweets prayers from afar. Victorious locker rooms are rarely this solemn. Myles Turner mentions how Oladipo sounded like someone being shot when he crumpled to the court. Darren Collison: "He's special to this organization; he's special to the community. Vic's personality shines brighter than anybody I know."
Oladipo. Luck. George. Manning. Major injuries all. Proponents of an Indy curse, start your engines.
What should have been a statement victory comes with an asterisk—no Kawhi Leonard for Toronto—and a very large cloud. Did all those playoff visons just turn into a mirage?
Thaddeus Young: "Nobody's going to feel sorry for us. They're going to try to beat the snot out of us."
Jan. 24: IUPUI, 73; Oakland, 71
The 11-9 Jaguars—fervently chasing their first winning record in eight seasons—tip off at 11 a.m. That's so 2,000 noisy third-graders can attend. The Coliseum has the ambience of "Disney on Ice."
Amid the clamor, IUPUI successfully opens a crucial five-game home stand. "This might be the most important stretch of our season," says D.J. McCall, a fourth-year guard who can appreciate how rewarding a winning season would be. "Not only for me, but other guys on the team who have been around a while and seen our struggles."
McCall's numbers—18 points, nine rebounds, five assists—make great metrics, and he ought to know. He graduated in three years and now pursues a master's in applied data science/sports analytics. "I look at the stat sheet from a different standpoint than other guys might," he says.
Jan. 25: Michigan, 69; Indiana, 46
Oh, how the mood in the Year of Romeo has changed. By the time Michigan leads 17-0 (the shot clock wasn't working; the Hoosiers probably would have preferred it was the scoreboard) there are restless boos. What follows is a sixth consecutive defeat, and an Assembly Hall crowd that goes from early roar to early exit. One familiar face stays to the end, though. Gov. Eric Holcomb is in the house in a red sweater. Time to declare a state of emergency?
With six home games left, Indiana still can reboot, but it's going to take a U-turn in confidence. And someone—anyone—making an outside shot. Archie Miller's media session does not lack candor:
"Feeling sorry for ourselves … soft … scared … a shell of where we were a month ago."
Michigan's John Beilein commiserates with a fellow coach desperately trying to stop the bleeding: "It's not as easy as people think."
Jan. 26: Virginia, 82; Notre Dame, 55
When you're down on your luck with five losses in six games—the win came on a day the injury-battered Irish had only six players—you search for any edge. Notre Dame tries to shake down the thunder with green uniforms and a boffo anthem from a 13-year-old violinist.
Doesn't help. The Irish fall behind 12-0. (Tour footnote 1: That makes a combined opening deficit of 29-0 for the Indiana teams the past two nights.) Mike Brey, searching for answers, calls practice for 8 o'clock the next morning.
Notre Dame doesn't have a single Indiana player. But Virginia does. Lawrence Central's Mr. Basketball, Kyle Guy, returns to his home state to score 15, with 70-plus family and friends in the stands. His entourage travels well. Only twice in his college career has no one been there. "Weird," he calls those nights, sitting on the bus, waiting for his teammates to talk to their families. "Usually, they're waiting on me."
Jan. 27: Purdue, 73; Michigan State, 63
PARDON THE SHOUTING, BUT IT'S PRETTY LOUD IN MACKEY ARENA.
Purdue has won 49 of its last 51 games with the Paint Crew student section in attendance. Take Indiana—done in here by 20 percent 3-point shooting and 115.7 crowd decibels. This day, Michigan State's 21-game Big Ten winning streak gets unplugged by a Boilermakers team on a tear—eight wins in nine games, seven by double digits. They're back on the national map, especially when they play in Mackey.
"I give this place a lot of credit," Spartans' coach Tom Izzo says afterward.
Purdue is no longer a one-horse show. The Boilermakers go up 20 with a single basket from Carsen Edwards. Unfathomable a month ago. "We just continue to grow," Matt Painter says. "Our roles are getting defined."
Suddenly, Purdue is just behind the Big Ten leaders, and only three of its last 11 games are against teams with winning conference records. "Obviously, we're right in the hunt," Ryan Cline says. A long way from that early 6-5 record.
Jan. 28: Golden State, 132; Pacers, 100
It's a sea of gold "Together4Vic" shirts in sold-out Bankers Life Fieldhouse. Oh, except for all the blue Golden State jerseys in the stands. Plenty of those. (Tour footnote 2: Over seven days, both the defending NCAA and NBA champions rolled through town.) The Indiana No-Oladipos are still trying to find their way. Thaddeus Young after the loss at Memphis: "He was kind of like a safety blanket for us. You have to be able to go without that safety blanket for the rest of the season."
The Pacers and crowd get a recorded pre-game pep talk on the scoreboard from … Oladipo, in his hospital bed. "Keep pushin'," he says. Yeah, but those are the Warriors out there. The No. 1 scoring offense in the NBA proceeds to put up 40 points in the first quarter against the No. 1 scoring defense. The Warriors pass the basketball like hockey teams move a puck. Indiana should pick another opponent to begin adapting to life without Oladipo. "We've basically got to go back to the drawing board," Nate McMillan says.
So what did this week suggest about the next six weeks? The shaken Pacers will struggle to hold on to one of the top four seeds in the East. The guess is, they won't. IUPUI will try to clinch a winning season. The guess is, the Jaguars will. NCAA Tournament berths are on the line. The guess is, Purdue will be the only state team to get one.
January turned dark and cold in many ways. The Hoosier Hoops Tour passed by a lot of teams with bad karma at the moment.•
__________
Lopresti is a lifelong resident of Richmond and a graduate of Ball State University. He was a columnist for USA Today and Gannett newspapers for 31 years; he covered 34 Final Fours, 30 Super Bowls, 32 World Series and 16 Olympics. His column appears weekly. He can be reached at mjl5853@aol.com.
Please enable JavaScript to view this content.