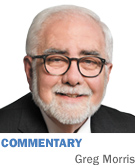 Income inequality is the hot topic this political season. President Obama called growing income inequality combined with the lack of opportunity for upward mobility the "defining challenge of our time."
It's the age-old battle between the haves and the have-nots. The rich versus the poor. It perpetuates the notion that, if you've done well for yourself, made some money and accumulated some wealth, you're not a good person. Are you a 1-percenter? Shame on you. Who would have ever thought that working hard and achieving success would be considered anything but a grand achievement?
The media loves this fight. It can't get enough. What's a more noble cause than fighting the injustice of the rich taking advantage of the poor? It's a script made in heaven for a media property trying to drive controversy and boost ratings. It plays well with the masses. But I believe this class-warfare pitch from the president and its constant spoon-feeding from the media is killing the ambition and motivation of millions of people. So, I decided to write a column about it.
However, a funny thing happened along the way to my column. I spent a considerable amount of time doing research and pored through a lot of reporting, data and opinion. And I found some compelling evidence that we might actually be out of balance on this equality issue. At the very least, it appears the concept of a rising tide raises all boats changed sometime in the late 1970s or early 1980s. Since that time, rising fortunes have been concentrated mostly in the hands of a select few at the top of the food chain.
But the radical views presented in the media and the outrageous solutions offered up to reverse the widening inequality gap obscure any legitimate points to be made on this issue.
The hot buzz on this topic at the moment is created from a book written by Thomas Piketty, "Capital in the Twenty-First Century." The extremists love this guy. Piketty is a professor at the Paris School of Economics. That should be a warning about his views. He believes there should be an 80-percent tax rate on incomes above $500,000, or $1 million here in the United States. Why? Well not to necessarily raise money for education or benefits, but to put an end to incomes in this range.
He also suggests a 50-percent to 60-percent tax rate on incomes as low as $200,000, an annual wealth tax as high as 10 percent on the largest fortunes, and a one-time assessment as high as 20 percent on lower levels of existing wealth.
Piketty assures all concerned that none of these things would reduce economic growth, productivity, entrepreneurship or innovation. Yeah, right. This guy is a totally off-the-charts wacko, yet he's getting a lot of play in the media. Go figure.
More "expertise" is offered from Robert Reich. Reich was secretary of labor in the Clinton administration and is currently chancellor's professor of public policy at the University of California at Berkley. He's written 13 books and recently co-produced and starred in a film titled, "Inequality for All."
In a recent blog, Reich gives us a few initiatives that he says can help reverse what he calls the widening inequality gap:
• Make work pay. Raise the minimum wage to $15 an hour.
• Unionize low-wage workers (Walmart, McDonald's, etc.).
• Invest in education. High-quality education should be free and available to all, starting at the age of 3 and extending through four years of university or technical education.
• Pay for these investments with higher taxes on the wealthy.
• Make the payroll tax progressive. Eliminate tax on the first $15,000 in income and remove the cap.
• Raise the estate tax and eliminate the "stepped-up basis" for determining capital gains at death.
• Constrain Wall Street.
My blood pressure's acting up again. I've got a massive headache. And I will say that Reich did present some compelling data that gives one pause. But, yet again, his radical solutions make me avoid considering any of his potentially legitimate points.
The bottom line is, the wannabes need to stop villainizing others for being successful. Keep the negative rhetoric on income inequality to a low roar and those with differing opinions might be more willing to consider alternative points of view.•
__________
Morris is publisher of IBJ. His column appears every other week. To comment on this column, send e-mail to gmorris@ibj.com.
Please enable JavaScript to view this content.