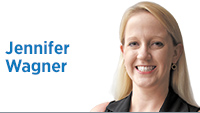 We like to think of politics in terms of winners and losers: clear-cut contests where one side comes out on top and rides triumphantly into the sunset, while the other side slinks into the wilderness to tend its wounds.
When President Trump shut down the federal government just before Christmas over the issue of border-wall funding, most folks assumed the stalemate would end quickly—and with an obvious victor.
Would soon-to-be House Speaker Nancy Pelosi negotiate with the administration? Would Trump settle for partial funding? The holidays temporarily overshadowed much of the debate, in part because everyone figured someone was going to blink.
Except no one did.
The days turned into weeks that turned into the longest government shutdown our country has ever seen. In the end, it felt downright cruel to watch furloughed federal workers standing dumbfounded as politicians lobbed insults over their heads—at their literal expense.
Plenty of people made jokes about the shutdown's proving just how little government we actually need. And for the first couple of weeks, the services that weren't being provided might have felt very distant, if they affected us at all. I wasn't planning a visit to a national park, and my airline travel wasn't interrupted, so what did all this have to do with me?
The longer it went on, though, the more it created a snowball effect that could not be ignored. Suddenly, major companies were tallying up multimillion-dollar losses, and questions were being raised about safety in the skies. A mortgage broker friend of mine had to send one of his clients to the IRS office in Cincinnati to get the right document for a loan. Public-opinion polling ultimately showed more than 70 percent of Americans didn't think border-wall funding was a good enough reason to continue the shutdown.
So the president caved—at least for a little bit—and everything went back to normal, right?
Big bureaucracies take time to restart, and thousands of workers who thought they would be getting much-needed back pay for time they logged during the shutdown found out their paychecks would still be running behind, which is devastating if you're someone—like so many Americans—who lives one pay period to the next.
That's the human toll we often overlook when things don't directly affect us. We moved on to the next hot topic while those folks were still wondering how to make last month's mortgage payment. Whether you think there's too much of it or too little, we see government as a monolith, not the sum of its people-driven parts.
And let's not forget that the shutdown itself was premised on funding for a border wall that sometimes serves as an oversimplified proxy for venomous xenophobia, not a proposed function of national security. Immigration reform is far more complicated than how many miles of fence run between the United States and Mexico.
When we focus only on the infrastructure, we forget that human beings live on both sides of that border, and those people, like federal workers, should be treated as people, not political pawns or props.
Time will tell whether we see a repeat of this ordeal or whether cooler heads prevail in Washington, but one thing was clear at the end of five weeks: There were no winners.•
Click here for more Forefront columns.
Please enable JavaScript to view this content.