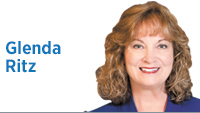 In the governor's 2019 Next Level Agenda, there are goals to increase pre-K opportunities and to increase K-12 school funding. These goal areas are expected each budget biennium. The question is, how can the Legislature ensure that our schools actually have the money they need to take our students to "the next level."
While the governor wants more money for K-12 funding, bills are being introduced that take away funding for public education. If the governor is serious about increasing funding for public schools, then the Governor's Office, along with the Department of Education, needs to be a watchdog of each bill's impact on public school funding.
Public schools have only two sources of revenue: local property taxes with a cap and the state. Our Legislature has power over both these funding sources. Do bills that expand vouchers or charter schools take away funding from our traditional public schools and, thus, increase the number of schools that need funding? Do bills that speak of changes to local property taxes take into account how they affect public school funding?
Bill watchdogs are needed, but the real work has to happen in the budget itself, no matter the funding source. Currently, the funding for schools is based upon the 2011 belief that each dollar should follow the child. But what about program funding?
When a child transfers from one school to another, funding follows the student to his/her new school. In actuality, programs must still be offered to the remaining students in the sending school, and teachers must still be paid to provide the programming.
School funding should first revolve around programming. It should be determined what funding is necessary to pay educators and to provide the mandated educational programs. Then, some money can follow the child from school to school. Having this type of funding approach would ensure students can be provided the program opportunities they need to enter our workforce.
In addition, we need more financial support for our rural school systems. The lack of program funding has affected the small and rural schools the most. The small-schools grant should be reinstated in the budget to provide student equity in programming for our children who live in rural communities.
It is time for the bipartisan budget committee to address this more equitable approach to funding public education and it is time for the Legislature to get serious about funding our public schools.•
Click here for more Forefront columns.
__________
Ritz, a Democrat, is a former state superintendent of public instruction. Send comments to ibjedit@ibj.com.
Please enable JavaScript to view this content.