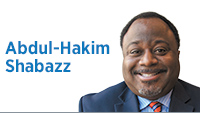 There's been a lot of talk these days over at the Indiana General Assembly about increasing teacher pay, and various proposals are surfacing to deal with the issue.
Gov. Eric Holcomb has unveiled a plan to pay off some teacher-pension debt, which would free up $140 million over the next two years that he hopes school districts will use to increase teacher pay. He also wants to repurpose Teacher Appreciation Grant dollars (to the tune of $60 million over the biennium) to go to salaries and tax credits for teachers who buy school supplies.
House Republicans are "encouraging" school districts to dedicate 85 percent of their operational expenses to the classroom or explain to their constituents why that isn't happening. Indiana Democrats, particularly state Sen. Eddie Melton, have called for increased dollars to schools so teachers can get a 5 percent pay increase over the next two years.
Frankly, before we have any discussion about more state funding for teacher pay, we should discuss what schools are doing with the cash they're currently getting. Remember, local school districts set the pay for teachers, not the state.
I did some preliminary research recently and looked at how much schools in Indiana were getting in state aid.
I collected some information from the Department of Education on how much state aid (basic tuition support and complexity grant dollars) traditional public schools have received since FY 2014, as well as student populations and the number of teachers. Here's what I found:
◗ FY 2014: 989,330 students; 57,277 full-time teachers; $5.51 billion
◗ FY 2015: 985,517 students; 57,100 full-time teachers; $5.5 billion
◗ FY 2016: 1,022,461 students; 57,201 full-time teachers; $5.75 billion
◗ FY 2017: 1,024,677 students; 57,433 full-time teachers; $5.85 billion
◗ FY 2018: 1,026,580 students; not available; $5.94 billion
(The teacher number for 2018 won't be available until this summer, but it is fair to assume it was at least 57,500.)
We can extrapolate a couple of nuggets from these numbers. First, while the number of students has increased from 2014-2018 (37,000), the number of teachers has stayed relatively flat. Still, schools received nearly $422 million more in 2018 than in 2014—and this does not include the $289 million Holcomb wants to give them over the next biennium.
Also, here is another factor to take into account: The data says average teacher pay has been declining the last 10 years. That's true, but here is the rest of the story: Older teachers have been retiring and being replaced by younger teachers who don't get paid as much. If a school district has an older teacher who made $75,000 retire, then it hired a new one for $40,000, where did that $35,000 in savings go?
Here's something else to ponder: Neither the governor's proposals nor Indiana House Republican proposals have any mandate that new dollars—or for that matter, old dollars—be used for teacher pay.
So with all that said, ask yourself this: If the number of teachers has stayed about the same, but there are more students and more money is going to schools, where are the dollars going?
That might be the question that needs to be answered first. Who knows what we might find? I'm thinking more money for teacher pay.•
Click here for more Forefront columns.
__________
Shabazz is an attorney, radio talk show host and political commentator, college professor and stand-up comedian. Send comments to ibjedit@ibj.com.
Please enable JavaScript to view this content.