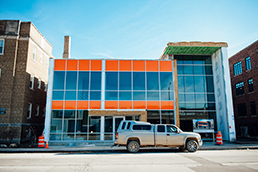 Guidon Design did extensive renovations at 1221 N. Pennsylvania St. before moving its offices there on Feb. 1. (Photo courtesy of Guidon Design)
Architecture and engineering firm Guidon Design has moved to a newly refurbished space at 1221 N. Pennsylvania St. in the city's Old Northside neighborhood.
The 22,400-square-foot energy-efficient space, originally built in 1960, includes outdoor meeting space and a vegetated roof.
The firm's 40-person team moved into the space on Feb. 1 from its previous offices at 905 N. Capitol Ave., Suite 100. Guidon's design of that space had won several awards.
Guidon officials told IBJ the company moved because it needed more space to accommodate growth.
In 2016, the company made it onto IBJ's Fast 25 list of fastest-growing local private companies.•
Please enable JavaScript to view this content.