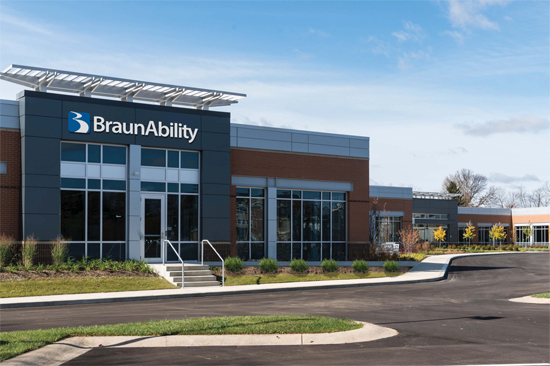 A northern Indiana-based manufacturer plans to spend $7.5 million to build a new technology center and relocate its global headquarters to Carmel, where it will hire almost 70 workers over the next few years.
BraunAbility, a Winamac-based manufacturer of wheelchair-accessible vehicles and wheelchair lifts, announced Wednesday that it plans to construct a 20,000-square-foot research and development and technology center and lease 18,000 square feet of existing office space in the Lakeside Green Business Center at the southeast corner of Carmel Drive and Guilford Road.
The company plans to keep its manufacturing operations in Winamac, where it was founded in 1972 by Ralph Braun, who had spinal muscular atrophy. The company is the largest employer in Pulaski County. The facilities in Winamac are slated to receive additional investment and expansion.
"Winamac, Indiana, is the birthplace of our company and will remain the heart and soul of the company as its primary manufacturing center," BraunAbility CEO Staci Kroon said in written remarks. "To support our continued expansion, we're excited to announce Carmel as our new, global headquarters. The new facilities will be designed for collaboration and innovation, and are key to our long-term recruitment and retention strategies."
The 35-acre headquarters property in Carmel is owned by developer Atapco Properties, which constructed the 61,000-square-foot Class A office building there in 2016.
BraunAbility said it plans to hire 68 new employees in accounting, engineering, finance, human resources and marketing for the Carmel operations. The jobs are described as "high-paying." The company also expects to move about 100 existing employees to Carmel, primarily in roles held by employees already commuting to Winamac from outside the county. BraunAbility has nearly 1,700 employees worldwide.
The office is expected to open by June with the technology center opening in 2020.
The Indiana Economic Development Corp. offered BraunAbility up to $1.3 million in conditional tax credits based on the job-creation plans. The city of Carmel is offering additional incentives in the form of a limited tax abatement, which will need to be approved by the Carmel City Council.
BraunAbility is owned by Patricia Industries, a unit of Swedish investment firm Investor AB. BraunAbility had sales of $646 million in 2018, up from $531 million in 2017, according to Patricia, which acquired the company in 2015..  
Please enable JavaScript to view this content.