An event stretching from Noblesville to Bargersville might be the best opportunity ever to check out wind- and solar-energy projects in one afternoon.

On Oct. 3, the Indiana Renewable Energy Association will participate for the first time in the American Solar Energy Society's National Solar Tour. The public can take a free, self-directed tour of seven commercial and residential projects.

The tour begins at 2 p.m. at Keep Indianapolis Beautiful, which has a wind turbine at its new, eco-friendly headquarters just south of downtown. Other stops on the way include photovoltaic panels at the Hilton Garden Inn and at Schmidt Associates, also downtown. A solar thermal system on the roof of Broad Ripple Brewpub heats water for the restaurant, bar and brewery operation.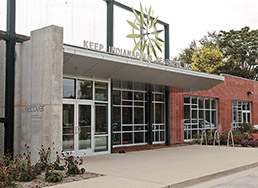 Keep Indianapolis Beautiful and its wind turbines will be one stop on tour. (IBJ Photo/Robin Jerstad)

There are three residential photovoltaic systems on the tour, ranging from a 1.4-kilowatt setup in Indianapolis to a whopping 20-kilowatt array in Bargersville, which is believed to be one of the largest residential systems in the state.

For more information on the tour and the IREA, visit www.indianarenew.org/events/2009SolarTour.html.