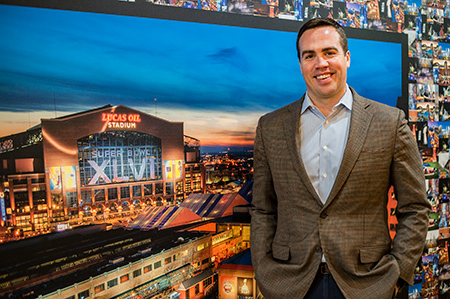 When community leaders launched the Indiana Sports Corp. in 1979 in a quest to use sports as an economic development tool, it was the first organization of its kind in the nation. Now, it faces stiff competition from hundreds of other organizations and cities throughout the United States hoping to get in on the action—and the money.
With a big assist from the Indiana Sports Corp., Indianapolis has had quite a run, hosting more than 450 sporting events over four decades, including a Super Bowl, seven NCAA men's basketball Final Fours and dozens of amateur world championships. More marquee events are on the horizon, including the 2021 and 2026 men's basketball Final Four and the 2022 College Football Playoff Championship.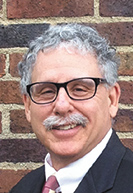 Rosentraub
"Indianapolis has been studied by everyone, and [it's] built infrastructure that can compete," said Mark Rosentraub, a sports business professor at the University of Michigan. "But Indianapolis is just in a much more competitive market than it was 20 years ago."
The walkability of the city's downtown and the proximity of its sports venues to hotels, restaurants and entertainment have given Indianapolis a competitive edge over the years, said Rosentraub, a former professor at IUPUI.
But the landscape is getting tougher. Such cities as Atlanta, Dallas, Miami and Phoenix—all larger metropolises with more professional and collegiate athletic venues than Indianapolis—have increasingly invested in recent years to up their share of the sporting-events pie.
"Indianapolis needs to just keep doing what it's doing, because it does it well," Rosentraub said. "[But] the success that Indianapolis had 25 years ago is almost impossible to replicate."

A recent study by PwC shows the North American sports market now generates $69 billion annually from tickets, media rights, sponsorships and merchandising—$20 billion more than in 2009.
Ryan Vaughn, president of the Indiana Sports Corp. since 2014, conceded that other cities have increasingly succeeded in landing big-time events, but he said plenty of opportunities remain for Indianapolis. He said the sports corporation takes a "measured, calculated approach" in its efforts to attract sports championships.
"There are a lot of communities out there making investments—public and private—in their facilities," he said. "To host the events we do is tremendously impactful, and we certainly want to do them at every opportunity. But they require a lot of resources … and you have to find the right moment."
The Indiana Sports Corp. operates with a staff of 25 and an annual budget of $6.7 million. The budget comes from membership fees paid by corporations and individuals, revenue from events the corporation manages, and local and state funding.
The staff is split among community engagement, event operations, marketing, public relations and sponsorship sales.
Those efforts help drive a powerful economic engine. Sports tourism is among Marion County's largest traffic drivers, bringing in at least $300 million through functions at the city's major sports venues in 2017, according to a Rockport Analytics study last year commissioned by the Capital Improvement Board.
Between the 2021 NBA All-Star Game and men's Final Four and the 2022 College Football Playoff Championship, along with a handful of other sports championships over a 13-month span, Indianapolis could see an economic impact of $520 million, according to the Sports Corp.
Global reputation
According to Burson Cohn & Wolfe, a consulting firm based in Switzerland, Indianapolis is the No. 42 sports city in the world. The ranking is determined from criteria that includes social media buzz about host cities and rankings by a panel of international sports journalists.
Lars Haue-Pedersen, leader of BCW's sports division, said that, given the population of the Indianapolis metro area—34th in the United States—the city "should be quite happy to be on the list."
According to BCW, the top U.S. sports cities are Los Angeles (No. 2 worldwide), New York (6), Chicago (12), Boston (13), Atlanta (19), San Francisco (32) and Dallas (40).
Haue-Pedersen said it would be challenging for Indianapolis to move higher on the list, given its focus on American sports.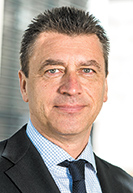 Haue-Pedersen
"If Indianapolis wanted to punch above its weight in terms of perception in sports internationally," it should go after more big-name international competitions, Haue-Pedersen said.
He pointed to soccer—the city bid unsuccessfully to host the 2026 FIFA World Cup—along with rugby and lacrosse.
But Indianapolis is no neophyte when it comes to international events. It hosted, for example, the 2002 FIBA World Basketball Championship, 2004 FINA World Swimming Championships and the 2005 Solheim Cup, a professional women's golf tournament.
Vaughn said the Sports Corp. is game to take on other international events.
"We are currently not in an active bid process [for] any international events," he said. "However, we are continuously keeping our eyes and ears open to international event opportunities to bring to Indianapolis."
Whir of activity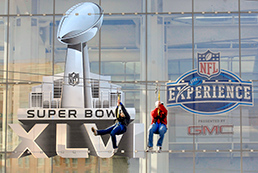 Downtown streets were buzzing leading up to Super Bowl XLVI. One of the popular attractions was an 800-foot zipline over Capitol Avenue. (IBJ file photo)
For now, Vaughn said, the group is focused on a busy slate of amateur and collegiate championships this year.
Two of those events will come during a 10-day span in March, when the Sports Corp. helps host the NCAA Division II Swimming & Diving Championships at the IUPUI Natatorium and the Big Ten Women's Basketball Tournament at Bankers Life Fieldhouse.
In December, the corporation will help host the Big Ten Football Championship at Lucas Oil Stadium for the eighth consecutive season.
Indiana Sports Corp. will also assist this summer in hosting the NCAA Rowing Championships and the USA Diving Senior National Championships.
Lots of planning and coordination with local organizing committees has gone into ensuring the events' smooth execution. On Feb. 6, for instance, more than a dozen Indiana Sports Corp. staffers participated in the final meeting of the Big Ten Women's Basketball Tournament, with many offering the 75-person committee updates on transportation, security, marketing, special events and community programming.
"You can't have big events like we do without a lot of people working together," Vaughn said. "That's why these committees are so vital for not only our efforts, but those of the city as a whole. You need to share that responsibility."
The Indiana Sports Corp.'s role varies by event. For the Big Ten Football Championship and NCAA tournaments, for example, the organization serves as primary event organizer. But for the Super Bowl and the upcoming NBA All-Star Game and the College Football Playoff title game, it plays more of a supporting role, with staff members sitting on subcommittees of the local organizing committee.
Something different
The Sports Corp.'s reputation for success and innovation helped Indianapolis score a marquee economic-development deal in the late 1990s—the move here of the NCAA from suburban Kansas City.
In the years since, Indianapolis has hosted four men's Final Fours (2000, 2006, 2010, 2015), three women's Final Fours (2005, 2011, 2016) and three men's regional rounds (2009, 2013, 2014).
Vaughn said the NCAA often looks to Indianapolis to take a lead in coming up with new, creative ways to engage fans during the Final Four.
Those ideas have produced the Music Fest and block party events held before semifinal games, and Ready, Set, Dribble!—a parade of basketball-dribbling youth through the downtown of the host city.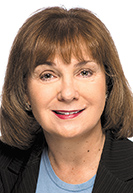 McNeely
The corporation also worked with the NCAA to create the world's largest March Madness tournament bracket on the front of the JW Marriott hotel in 2015.
"We've been very fortunate to have a great relationship with the NCAA, and they've been willing to let our community try out new concepts," Vaughn said.
Kathleen McNeely, the NCAA's senior vice president of administration, said her organization's partnership with the Sports Corp. has been "very strong" and consistent. She said the group's focus on new ideas "happens naturally," without pressure from the association.
"Indianapolis has a history of doing things that are different," McNeely said. "Things that encourage tourism and providing a really great experience for people in the city—it's one of the reasons that I believe our spectators enjoy coming here."
The Sports Corp. also won accolades for creating a unique fan village along Georgia Street ahead of Super Bowl XLVI in 2012. More than 265,000 people participated in the village and related activities.
Vaughn said the idea is to give event "rights-holders something more than what they had when they came in."
Long-term plans
Neuburger
Dale Neuburger, who led the Indiana Sports Corp. from 1993 to 2005, said one of the organization's perennial challenges is striking a balance between short-term execution and long-term planning.
That includes arranging the logistics for events that might occur long after many current staffers have departed the organization. If past turnover patterns continue—the Sports Corp. has seen turnover in at least 14 positions over the past five years—many current employees won't be with the organization when the city stages its ninth men's Final Four in 2026.
"I think the city has recognized that there are some events that are so important and so influential that they transcend the individuals who may be in particular positions," said Neuburger, who also works for BCW as a consultant.
One of the biggest challenges for the Indiana Sports Corp. is ensuring sports events don't overlap with large conventions, and it works closely with Visit Indy to maintain hotel room availability.
"Our first call is always to them to make sure we're not double-booking things," said Melissa Thompson, chief community officer for Indiana Sports Corp.
Current plans for more hotel rooms downtown should prove helpful in landing future events and staging them successfully, said Scott Dorsey, chairman of the Indiana Sports Corp. board and managing partner of the Indianapolis-based venture studio High Alpha.
More than 2,000 hotel rooms are slated to come online downtown in the next few years, including 1,400 in planned hotels on Pan Am Plaza across from the Indiana Convention Center.
The additional room capacity could help boost Indianapolis' profile for future, larger events, Dorsey said.
For his part, Vaughn, 42, said he enjoys the challenge of leading the Indiana Sports Corp. He plans to stay at the helm "as long as I feel like I'm effective."
For now, it's on to the next event.•
Please enable JavaScript to view this content.