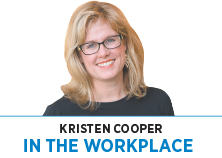 It's surprising to me how many men have asked me and my female executive peers to mentor them over the last year. At first, I felt it was a lot for them to ask of us. So many of us are already over-tasked with mentoring and sponsoring other women. This was more work for no pay. But, as I thought about it, it was also an opportunity to educate rising leaders and those in power.
In the #MeToo era, more men want to better perceive, interpret and respond to inequities. They are taking the time to understand the obstacles specific to all women, particularly women of color and women who identify as LGBTQ+. Increasing mentoring relationships between women and men is an important component to creating more equitable and mentally healthy work environments as well as ending gender disparity in C-suites, boards and investment deals.
Here are five tips I gave to my male proteges this past year in pursuit of gender parity in every workplace:
Pick one problem and help solve it.
Want to make a real impact this year? Pick one problem focused on eliminating gender inequity and devote yourself to being part of the team that will solve it. Begin by understanding the problem and how women leaders are currently trying to fix it. Read articles and books about the topic. Join a local group that is actively addressing a problem, like figuring out how to get more girls and women into STEM careers (this is an issue that will only be solved with the participation of smart individuals from every gender identity). Women & Hi Tech, for example, would love to have you as members and volunteers.
By exposing yourself to new people, problems, solutions, processes and situations, you build trust in yourself and in other people and become part of a solution.
Learn to debate without destroying relationships.
Wise people engage in intellectual debates for the purposes of understanding multiple perspectives, offering their own evidence-based knowledge and experiences, and moving the relationship forward—not backward. It takes an immense amount of courage to engage in conflict that isn't driven by ego. Once two people have established a trusting relationship, they can actually debate an issue in a way that lets them explore each other's perspectives and gain more trust with each other.
Instead of fearing debate and conflict, be purposeful about learning how to engage in healthy debate and conflict so you can be an agent of change.
Show up consistently at women-focused events.
This one is the simplest to follow, yet seems to be the most difficult. Most women's organizations exist to lift women up while in the company of men, not to their exclusion. Instead of relying on well-connected women to lead you to diverse women capable of working for you and serving on your boards, why not immerse yourself in communities of women and get to know them personally?
By showing up and volunteering consistently at women-focused events, you will have the opportunity to extend your network significantly. Each of these organizations welcomes men: Healthcare Business Women's Association, Ladies in SaaS, National Association of Women Business Owners, Pass The Torch for Women, The Startup Ladies, and Women & Hi Tech.
Keep in mind, if your presence and absence isn't being noticed, you really aren't part of the community.
Send a leader to meet a leader.
Gentlemen, please stop sending junior-level women to meet with senior-level women in your stead in order to "give her an opportunity." That isn't the time for us to mentor her; it's the time for you to mentor her. Executive women need to meet with those who have an equal amount of decision-making authority to work through deals and problems.
Instead of sending a neophyte on your behalf, bring along a female protege so she can learn how to prepare, engage and follow up after an important meeting. Take the time to prepare her before the meeting, teach her what her role should be during the meeting, debrief with her after the meeting, and discuss what follow-up needs to take place.
Invest in women-owned startups.
Many corporate leaders have acquired wealth by the time they reach their 50s. Consider repurposing some of it income into women-owned startups. Women founders need you to write checks to fund their startups so they can hire people to scale their companies. Not only will you be addressing gender disparities, but you will also be investing in your own legacy by resourcing the next wave of innovative founders who will be creating jobs for your children and grandchildren.
To learn how to invest in women-owned startups, visit TheStartupLadies.org.•
__________
Cooper is the founder and CEO of The Startup Ladies.
Please enable JavaScript to view this content.