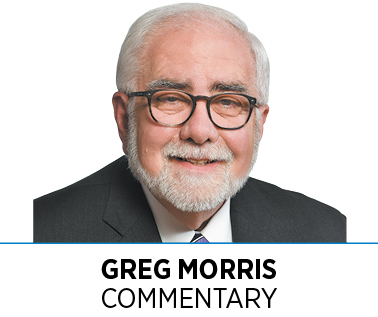 My friend Leon Mordoh passed recently at the age of 82. Leon was a successful Indianapolis businessman and generous donor of money and time to many organizations, causes and people. He was a special person whose obituary cannot adequately capture the positive impact he had on multitudes of lives. More about Leon after a short digression.
The timing of Leon Mordoh's death roughly coincided within a few months of an event I attended where David Rubenstein, well-known financier and philanthropist, was in Indianapolis to speak. In his comments, Rubenstein talked about giving back and asked everyone in the room whether, if our obituary were to be written today, we would be happy with what it says. The message was that there's still time to get it in better order.
And that brings me back to my friend Leon and reflecting on a life well-lived. No matter when his time on Earth was finished, Leon's legacy would be in order. It's how he lived his life.
He was successful in business as the owner of HPS, but that's not how people who knew him judged him—not by way of material possessions. Instead, he lived a rich life because he made everyone he came in contact with feel good when they were around him. He always had a smile, a laugh, a funny story and something positive to say. You couldn't help but laugh along with him.
He had an amazing way of making you feel like you were the most important person to him—family, coworker, friend or just an acquaintance. He would do anything to help if you needed it.
He loved to play golf and there was no more entertaining person on the golf course than Leon. He was competitive in a playful way. There always had to be some skin in the game, and he didn't hesitate to improve his advantage.
As an example, as I was standing at the top of the hill on hole 10 at Prairie View Golf Club, lining up to hit my second shot to the green, he waited until I was just ready to swing before he stepped in and grabbed my arm and said he forgot to tell me something very important—that the sand trap next to the green should not come into play at all with my next shot.
"Don't worry about the sand trap. Just ignore it," he said, like it was the most helpful advice he could give anyone.
So, yes, predictably, I couldn't shake the thought out of my head, took a horrible swing, and hit the ball in the middle of the trap. After I slammed the club down on the turf, I looked over at Leon. He was holding his stomach and laughing so hard, I thought he was going to have a heart attack right there. That was classic Leon.
During Leon's funeral service, I sat in the Laikin Auditorium at the Jewish Community Center and looked around at the packed room with people standing in the hallway and listened to family members, friends, person after person say over and over again how much Leon Mordoh meant to them and what a positive impact he made in their life.
I chose not to highlight here all of Leon's accomplishments found in his obituary and various sources online. Instead, I wanted to give a brief personal glimpse of a man who has inspired me to strive to lead a more meaningful life by giving back to others.
I hope you have a Leon Mordoh in your life that inspires you to do the same.•
__________
Morris is publisher of IBJ. His column appears every other week. To comment on this column, send email to gmorris@ibj.com.
Please enable JavaScript to view this content.