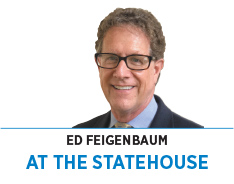 Fear not, Hoosiers. We are proceeding slowly—but methodically—toward resolution of the big issues, even though it might seem to outsiders (read: anyone outside majority-caucus rooms) as if the Statehouse is in a state of stasis.
While you're still waiting on some indication as to the fate—or even direction—of the key items on the legislative agenda, lots has been happening beneath the surface on most of them. Meanwhile, we've seen considerable action on the "stuff of government," the little things that might make life easier for some trade or profession while not harming the public or a tweak to some code provision that will better enable a government agency to carry out its function.
Lots of "technical" changes are being made that will inure to everyone's benefit, and many of these bills are passing with the same number of votes as you see on resolutions honoring high school volleyball or chess champs.
But when it comes to the major "pillars" of legislation—some on the formal agendas of the governor and the four caucuses and others not—it might seem as though little progress has been made.
Much of the discussion about how to handle hate crimes legislation is taking place behind closed doors in the Senate Republican Caucus, which is led by Senate President Pro Tem Rodrick Bray. (AP photo)
At week's end, we were just starting to learn about the parameters of the budget that will be passed in about eight weeks. Education bills—from funding and referenda to school safety and teacher pay and even charter-school standards and mandates—remain largely works in progress. Firearms legislation has consumed a large amount of legislative time in assorted committees and on the floor after being bottled up in recent years, but again a true direction remains unsettled.
Workforce development bills are taking shape, but even as many believed those would be effectively in final form as the Legislature convened, they seem to still be subject to considerable change. Talk of tobacco law changes has yet to find consensus, but hasn't yet gone up in a puff of smoke, either. Alcohol bills (nope, not cold beer at gas stations or restructuring of the distribution network yet) seem to be easier to swallow than in years past.
Take a deep breath before the omnibus gambling bill gets debated in the Senate; the number of moving parts puts a Rube Goldberg device to shame, and, like those efforts, any one flawed component can derail the intended result.
We have yet to see any real discussion of the Indianapolis sports stadium bills ("bills" in both senses of the word). That talk will largely remain far from the public spotlight until close to budget time. Time will also tell whether anyone can thread the needle on bias-crimes legislation.
The bulk of the hate-crimes talk is behind closed caucus doors in the Senate, and, with Republican supermajorities, a great deal of the debate on the more controversial measures is being handled that way. Unlike other issues where opposing sides might settle for half a loaf to "start the conversation," the bias-crimes topic has seen an ongoing discussion for years.
Absent full-throated gubernatorial public lobbying (shaming is not his style), there is little chance a strong measure will advance—and it seems with the passage of time, that voices of those who are content with current law or prefer not including "a list" of those affected in the bill are growing stronger in the House.
While the new year seemed to suggest hate crimes would provoke the most debate and dispute (at least not on a partisan basis), school-safety and teacher-pay concerns could now find themselves bogged down seeking out the proverbial "sweet spots."
Democrats could sense a potential winning 2020 election issue, and Republicans fear they might have over-promised. Watch this.•
__________
Feigenbaum publishes Indiana Legislative Insight for Hannah News Service. He can be reached at EDF@hannah-in.com.
Please enable JavaScript to view this content.