For a startup that has raised an eye-popping $71 million in just three years, Outpost Medicine LLC likes to keep a low profile.
The young company, which is developing drugs for urinary and gastrointestinal disorders, is headquartered in small, unmarked space at the Parkwood Crossing office complex on East 96th Street.
It has issued only a handful of press releases since its founding, most dealing with hiring announcements and licensing agreements. Only five of its 15 employees work in Indianapolis. The scientific and medical staff works in England. Outside research contractors handle much of the early-stage development work.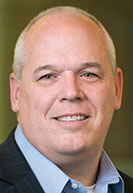 Byrd
Even the company's unusual name sounds remote and off the beaten track—a fact acknowledged by CEO Scott Byrd, a former executive with Eli Lilly and Co.
"An outpost can be characterized as a small force or detachment out on the frontier," he said. "In our case, Outpost was envisioned as exactly that—a relatively small, specialized team of scientists and drug developers designed to push the frontier of medicine in urology and gastroenterology."
But Outpost Medicine and its investors see a huge opportunity, worth billions of dollars a year in potential sales. It is devoted to finding new treatments for a collection of medical disorders that many people would find unglamorous: overactive bladder, fecal incontinence, stress urinary incontinence and irritable bowel syndrome. Those disorders plague millions of people, and do not have adequate treatments, Byrd said.
Already, Outpost Medicine has notched several large milestones. It has raised more money in early-stage venture capital than any other life sciences company in Indiana in recent years, according to BioCrossroads, a life sciences advocacy and investment organization. Last year alone, Outpost Medicine pulled in $40 million, putting it at the top of the venture funding heap for Indiana life sciences companies.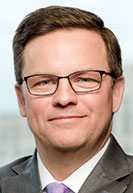 Stemme
"There have been some companies that have raised $40-, $50-, $60 million in the first few years," said Brian Stemme, project manager at BioCrossroads who tracks the sector's venture funding. "But Outpost has raised several large rounds of money. I'm not aware of any others who have raised as much this early."
But unlike other startups, Outpost Medicine hasn't exactly had to beat the bushes for funds. In fact, it is less a grass-roots startup than a creation of the venture capital industry.
The company was founded and seeded by Frazier Healthcare Partners, a large life sciences private equity and venture capital firm based in Seattle, with $2 billion of assets under management.
Two senior leaders at Frazier—both with long records of success in drug development—founded Outpost Medicine.
One is Dr. Tachi Yamada, a gastroenterologist who formerly ran research and development at Takeda Pharmaceuticals in Japan and GlaxoSmithKline in London. He previously ran the global health program for the Bill and Melinda Gates Foundation, developing low-cost health tools for the developing world.
The other co-founder of Outpost Medicine is David Socks, who has a long record of health care entrepreneurship. He co-founded Incline Therapeutics, a pain-management company, in 2010 and sold it three years later to The Medicines Co. for $390 million. Socks also co-founded Cadence Pharmaceuticals, a maker of intravenous acetaminophen.
'True, unmet need'
Life sciences veterans in Indiana say Frazier is one of the nation's most accomplished venture capital firms, and its investments often pay off in spades.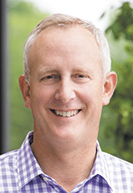 French
"The firm is in the top tier of venture capital firms in the life sciences space with a very strong track record and a very talented team," said Fritz French, former CEO of Marcadia Biotech, a Carmel biotech developing treatments for diabetes and obesity, which received venture funding from Frazier and was later sold to Swiss pharmaceutical giant Roche for $287 million.
French added: "The fact that they've invested in Outpost and in the team, led by Scott [Byrd], is indicative of their judgment that it is a very interesting opportunity."
Frazier Healthcare often brings in other large investors as part of a syndicate. In Outpost's case, the syndicate includes Adams Street Partners, Novo Holdings, Vivo Capital and Takeda Ventures.
Some of Frazier Healthcare's big hits include Calistoga Pharmaceuticals' sale to Gilead Sciences for $100 million and PreCision Dermatology's sale to Valeant Pharmaceuticals for $575 million. Several other companies have gone public, including pain-management company Collegium Pharmaceuticals and oncology company ProNai.
Frazier officials say they typically look for a few traits when deciding to set up or invest in a company.
"We look for teams that are innovative [and] companies addressing a true, unmet need—not just because we think we can sell it, but to ensure that regulators and reimbursers will agree with the companies," Dr. Jamie Topper, Frazier's general partner, told technology publication TechCrunch in 2015.
It's too early to know whether Outpost Medicine can deliver on those parameters. The company has yet to launch a product. It has two leading compounds in its pipeline in early and mid-stage development, both years from hitting the market.
In fact, Outpost Medicine's first experimental product was a flop. The brand-new company was launched with the goal of developing a treatment for urinary stress incontinence, an often-debilitating condition that affects more than 18 million Americans.
Outpost Medicine bought the rights to develop and commercialize an early-stage compound from Takeda Pharmaceuticals, which was renamed OP-233. The two companies jointly announced the deal in March 2016.
"We believe OP-233 is an exceptional asset around which to form Outpost Medicine," said Socks, Frazier's venture partner and co-founder of Outpost, in a press release at the time.
But things didn't go as planned. Scientists at Outpost began testing the compound in humans, but soon discovered unspecified safety issues. The company quietly discontinued the program in November 2017 without giving details. The same month, Outpost said it would work on other drug compounds, and named Byrd as CEO.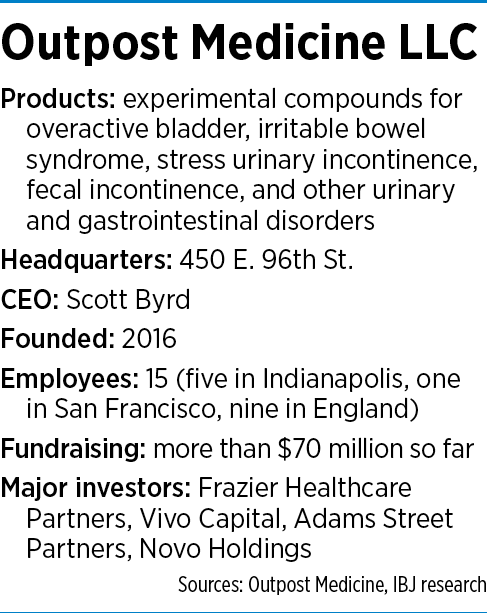 Experienced leader
In hiring Byrd, the company got a leader with more than 25 years of experience in the pharmaceutical industry.
Early in his career, Byrd spent 19 years at Lilly in a wide range of roles. Trained as a mechanical engineer at Bradley University in Peoria, Illinois, Byrd started at the Indianapolis drugmaker as a project engineer and manufacturing specialist. He later worked in sales, marketing, development and strategic planning, picking up an MBA from Harvard University along the way.
He rose to become global brand leader of Lilly's cardiovascular unit, which included such drugs as ReoPro, used for patients undergoing angioplasty or stent procedures; and Xigris, for severe sepsis.
Byrd left Lilly in 2009 and went to San Diego to become a senior vice president at Cadence Pharmaceuticals, a startup that was about to launch injectable acetaminophen and was looking to build a commercial team. He led the launch efforts and stayed until the company was sold to Mallinckrodt five years later for $1.4 billion.
"We had a really nice launch and ultimately a great exit," Byrd recalled.
Next, he became president and chief operating officer of Acacia Pharma Inc., which was developing a drug for post-operative nausea and vomiting for hospital use. The company, based in Cambridge, England, has its U.S. operations in Indianapolis.
Ready for a new challenge, Byrd accepted an offer to lead Outpost Medicine. In doing so, the company moved its headquarters from the West Coast, where Frazier Healthcare Partners is located, to Indianapolis, where Byrd lives.
Along the way, Outpost picked up two more drug compounds, which today constitute its pipeline.
The lead clinical product, called OP-687, is for treatment of overactive bladder and irritable bowel syndrome. Outpost bought the rights to the compound from a company it declines to identify.
The experimental drug, which is about to go into mid-stage clinical trials, is a combination of two molecules already on the market. Outpost is being secretive about details. All it will say is that one of the molecules is currently on the market to treat an unspecified neuroscience condition. The other molecule, when attached, will change the property of the first molecule, allowing for a longer absorption in the body and making it suitable for urology and gastrointestinal uses.
"The active drug is marketed by a very large pharmaceutical company, and what I want to do is stay under the radar, relative to them, until we get further down the road," Byrd said. He added that Outpost Medicine acquired the rights to the drug, and all the intellectual property rights around it, in a licensing deal with a third company that held the rights.
By using two molecules already approved by the U.S. Food and Drug Administration to form a third molecule, Outpost is able to skip years of early, non-clinical testing that could save it millions of dollars and potentially get the drug to market years before a brand-new compound could.
Intriguing plan
The strategy of rejiggering or combining active drugs for a new purpose is not uncommon in the industry. And some scientists say Outpost is developing what sounds like an intriguing plan to repurpose a neuroscience drug.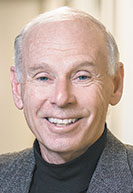 LaMattina
"The fact that they're taking a drug that was developed for neuroscience purposes, and attaching something to it that will prevent it from getting into the central nervous system and instead into the gut, where it needs to work, is interesting," said John LaMattina, senior partner at the Boston biotech firm PureTech Health and former president of Pfizer's research and development.
He added: "It sounds like, once it gets down into the lower intestine, it will be absorbed by certain cells or cleaved by enzymes that will allow it to work where it has to work."
Outpost officials, for their part, decline to give details on how the drug works.
The other drug in Outpost's pipeline, OP-352, was licensed out by Arena Pharmaceuticals, a San Diego startup. Outpost is studying the drug for stress urinary incontinence and fecal incontinence. That compound is about to move into early-stage clinical trials.
In coming years, if the drugs advance to late-stage testing and FDA approval, Outpost could grow quickly, adding positions in Indianapolis and London, Byrd said. Already, he has picked up two former Lilly business leaders who took buyouts last year: Randy Miller and Rick Bergland, who had worked in the Indianapolis drugmaker's chemistry and manufacturing operations.
In England, where Outpost's research and development is based, the company has a staff of scientists with big-league credentials. The chief scientific officer, Gordon McMurray, formerly was head of Pfizer's neuroscience and pain research unit. The chief medical officer, Dr. Ian Mills, formerly led clinical development for Mitsubishi Tanabe Pharma Europe.
And Byrd is busy finding more talent for its Indianapolis and London outposts.
"We have opportunities in regulatory, quality control, clinical operations—a number of roles where I'm looking to build expertise," Byrd said. "We've got the talent. We've got the money. We're continuing to execute on the plan."•
Please enable JavaScript to view this content.