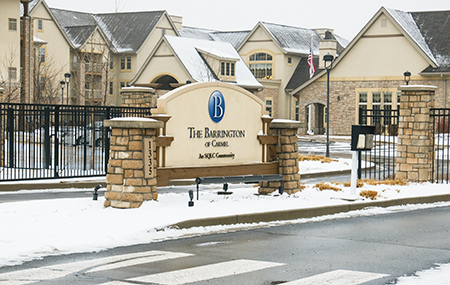 When Robert Reynolds moved in October into The Barrington, a senior community in Carmel, he had no clue anything was amiss.
The buildings and grounds were attractive and spotless. The upscale complex included a fitness center, library, salon, spa, arts studio, underground parking and food options from casual to fine dining, spread out on a 19-1/2-acre campus, with walking trails and woods.
"It's a very attractive environment," said Reynolds, a retired lawyer from Barnes & Thornburg LLC. "The people are friendly. It's a great place for older people to live."
He plunked down a six-figure, refundable "entrance fee," similar to a deposit, and moved into an independent-living apartment in the 271-unit complex.
But just three months later, he was stunned to hear that the complex's owner, Mayflower Communities of Dallas, had filed for bankruptcy after missing three bond payments and falling into default.

Mayflower, whose sole holding is The Barrington, said it is struggling under huge debts and is competing with four other retirement communities within a 10-mile radius.
Now, along with many other residents at The Barrington, Reynolds is waiting to see if or when he will get his money back. He declined to say how much he paid, but according to court filings, new residents at The Barrington pay $316,000 to $650,000 in entrance fees.
Court records show an unspecified number of residents are owed a total of $52 million in entrance fees and that Mayflower, which is structured as a not-for-profit, is deep underwater. As of Jan. 31, it had assets of $97 million and liabilities of $152 million, including $93 million in bond debt.
Under normal circumstances, residents of The Barrington or their estates could get back as much as 90 percent of their deposit if they die or move out, ending their contracts. But now that Mayflower is in bankruptcy, the residents are considered "unsecured creditors"—meaning bondholders and other secured creditors are first in line for repayment.
The Barrington, which cost $142 million to build and opened in 2014, is what's known as a continuing care retirement community. CCRCs are attractive to many seniors because they offer different levels of care—from independent living to skilled nursing—under one roof, meaning residents won't have to move if their level-of-care needs change.
But seniors who come aboard also are making a high-stakes bet that the retirement community will remain financially sound and be able to refund deposits.
"These seniors will often sell their homes or liquidate significant assets, including their life savings, in order to become a part of a CCRC, like Barrington," Mayflower's chief restructuring officer, Louis E. Robichaux IV, said in a Jan. 31 court filing.
Bankruptcy experts say it's unclear how much residents can expect to recoup in a case like this. In normal Chapter 11 cases, unsecured creditors usually get back just a fraction of what they're owed, said Pamela Foohey, associate professor of law at the Indiana University Maurer School of Law in Bloomington.
"The short answer is, not much," Foohey said. "As to CCRCs restructuring in bankruptcy, there is no research that I know of that tracks these types of cases specifically. That is a very niche area."
Nicholas Georgakopoulos, law professor at IU's Robert H. McKinney School of Law in Indianapolis, said people with unsecured claims who are connected to the purchase, lease or rental of property are seventh in line behind other types of unsecured creditors, such as lawyers and post-petition bankruptcy lenders.
Even unsecured consumer creditors seeking small amounts, such as credit card companies, have priority over general unsecured creditors, he added. "This does not help the retirees because their claims are large, it sounds like."
Hot sector
Nationwide, nearly 2,000 CCRCs have popped up over the years and are attracting seniors with promises of lifelong care, stylish villas, heated swimming pools and fine dining, according to Kiplinger's Retirement Report.
Barrington is not the first to fail, though comprehensive data on the industry is not available. In the past five years, three of Florida's 71 CCRCs have filed for bankruptcy.
CCRCs can be tough to run, in part because operators must maintain a broad range of services for seniors at varying stages of the aging process, Robichaux wrote in the Jan. 31 filing.
Mayflower hired Robichaux, managing director of Washington, D.C.-based Ankura Consulting Group LLC, in June to help it work out its financial problems.
He said in the filing that the business model for CCRCs is dependent on collecting large entrance fees, which they draw on to maintain day-to-day operations and fulfill their resident refund obligations.
At The Barrington, the six-figure entrance fees are the "lifeblood" of the operation, accounting for a "significant portion" of the operating budget, he wrote.
On top of that, residents at The Barrington pay a monthly service fee of $2,800 to $7,600 to cover dining services, housekeeping, laundry, utilities, activities, transportation and maintenance.
Mayflower is asking the court for permission to deposit all its new entrance fees, following the bankruptcy filing, into escrow, and to refund fees to residents who move in during the bankruptcy proceedings and later leave.
It said that move is necessary to assure new residents that the bankruptcy will not affect their rights to a refund.
"Any negative publicity suggesting that a community is in bankruptcy will necessarily deter prospective residents from entering into new … contracts," Robichaux wrote in the Jan. 31 filing.
The petition did not address the money owed to current residents. A company attorney declined to say whether current funds were in escrow or otherwise protected.
Financial distress
The bankruptcy is a big comedown for Mayflower Communities, which rolled out The Barrington with fanfare in 2013. The complex, just north of 116th Street on Guilford Road, is surrounded by quiet, upscale neighborhoods, and for active seniors, is just a few blocks from the Monon Trail, the Monon Community Center and Woodland Country Club.
Mayflower formed in 2007 to develop The Barrington. It's an affiliate of Senior Quality Lifestyles Corp., based in Texas, which owned and operated several other continuing care retirement communities in its home state. The Barrington was its first out-of-state project.
As a not-for-profit, Mayflower was able to use the city of Carmel as a conduit to issue $119 million in tax-exempt bonds. But the city has no financial responsibility for the debt.
In the spring of 2014, at The Barrington's official grand opening, visitors were entertained by actors, musicians and local artists.
"The Barrington is a place for seniors to lead a very active and engaged lifestyle at any level with its state-of-the-art continuum of care," the developers said in marketing materials.
The senior community offered a variety of residential options, including one- and two-bedroom styles ranging from 757 square feet to 1,384 square feet. The furnishings were decidedly upscale, including designer kitchens with granite countertops and full-size, stainless-steel appliances.
The facility also boasted a high level of service. It currently employs 212 workers, from cooks and housekeepers to nurses and activities directors.
Robichaux said in his filing that The Barrington has 271 residents, and he characterized its occupancy rate as high.
But The Barrington in some cases propped up occupancy with rent concessions. In addition, in 2017, The Barrington saw its average monthly occupancy in two divisions—assisted living and memory support—decrease by about 13 residents a month.
"To make matters worse, Barrington's operating costs are generally fixed … thus, operating costs remained relatively constant and occupancy rates declined," Robichaux wrote.
By July 2018, the project's net resident revenue missed projections by about 18 percent, while operating expenses soared 27 percent higher than projected.
Suffocating debt
Meanwhile, the operation struggled under huge debt—chiefly the more than $90 million in tax-exempt bonds.
Liabilities now exceed assets by $55 million—a gap that has been rapidly widening, according to Form 990 Internal Revenue Service filings examined by IBJ.
In 2012, liabilities exceeded assets by $1.2 million. By 2016, the gap had ballooned to $36 million.
"The current situation Barrington finds is unfortunate," Robichaux wrote. "The facility has no operational or healthcare issues and has not found itself defending contentious litigation brought on by its residents or its estate. The issue is that Barrington simply cannot continue to maintain its current debt structure."
Mayflower defaulted on a bond payment for the first time in November. It missed payments again in December and January.
On Jan. 18, the bond trustee, UMB Bank, filed a complaint in Hamilton Superior Court, alleging that Mayflower was in default. The bank sought foreclosure and asked for the appointment of a receiver.
For its part, Mayflower said in a court filing that it was "appalled" when it learned that UMB suggested it would reject all the residents' continuing care contracts and their associated refund obligations.
Mayflower said it became convinced that the main goal of the receivership was to "seize all cash … without regard to the consequences of the priceless lives of the residents."
"The Debtor could not stand by idly," Mayflower said in a court filing. On Jan. 28, Mayflower's board voted to seek Chapter 11 bankruptcy reorganization, "in order to, among other things, potentially pursue a sale of the facility."
Reynolds, for his part, said he is optimistic that he will get his money back eventually. As an attorney for more than 50 years, he has seen his share of business transactions, and said he has a feeling the bondholders don't want to do anything that would hurt the operation or upset residents—even if it required bondholders to agree to a "haircut"—to take less than they are owed, under renegotiated terms.
"The reality is that, if the residents are unhappy, other people won't move in," said Reynolds, who was recently named chair of the official residents' committee. "Then as residents move out, the facility becomes essentially worthless."•
Please enable JavaScript to view this content.