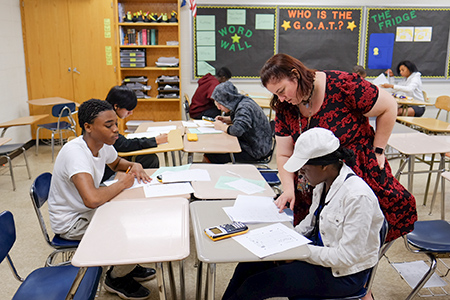 In a fiery Facebook post, Kokomo teachers union president Nicki Fain Mundy tallied the toll: It took her 14 years and a master's degree to crack a $50,000 salary.
The numbers tell her that she's making far less than college-educated professionals in other fields. She fights for small raises but watches her pay disappear when insurance costs rise and when the rising cost of living bites deeper and deeper into her paycheck.
Indiana's legislative leaders are pledging to find money to increase teacher pay, which, at an average salary of around $50,000, ranks the lowest among neighboring states. But so far, their proposals have included studying the problem, asking districts to save money to fund the raises, and funneling small increases to schools in the hopes that teachers could get pay bumps.
These lukewarm proposals, plus an overall concern that Indiana lawmakers don't value teaching, could create conditions that lead to a teacher walkout. State teachers union leaders aren't encouraging action just yet, but other local leaders say they want lawmakers to know that teachers are fed up and fired up.
"I'm ready to walk today. I've been ready to walk," Mundy, a high school English teacher, told Chalkbeat. "When you demand more and more and more of teachers and are willing to give them less, and you make it very clear that what we do isn't respected—at that point, that's when I've decided I think it's time to walk."
The question of a teacher walkout in Indiana has been floating around for nearly a year as the issue of teacher pay has attracted attention both locally and nationally. It's unlikely that Indiana teachers would take the dramatic step of going on strike—which is illegal in Indiana—or walking out of schools, like some educators have done recently to protest wages in Denver, Oklahoma, Arizona, and West Virginia.
But for some teachers on the ground, frustrations are spiking more than the legislative debate might let on. Local and state union leaders say they're hearing about piqued interest in demonstrating outside of school hours, with some teachers saying they want to get lawmakers to take them seriously.
As other states such as Florida and South Carolina are pledging to pre-emptively put hundreds of millions of dollars toward raising teacher salaries, teachers in Indiana are waiting to see what lawmakers will have to offer them. They will get some sense in the first version of the two-year budget, expected to be outlined next week. But leading lawmakers have warned that addressing the issue is likely to be a long game, spanning the next four years.
Republican Gov. Eric Holcomb said he believes schools could give raises to teachers if the state increases overall education funding and frees up $140 million for districts by paying down a pension liability. He has also created a commission to study the issue, saying the state would likely take more action in the next budget cycle.
Republican lawmakers have suggested that school districts should spend less on administrative costs in order to pay teachers more. Lawmakers have also proposed boosting pay by increasing tax credits for classroom supplies and offering bonuses for teachers who mentor other educators or move up on career ladders.
So far, educators say they're concerned that the proposals on the table aren't enough. Plus, they lack teeth to ensure extra dollars make it into teachers' wallets.
"There's nothing specific that's going to teachers," said Sally Sloan, executive director of the American Federation of Teachers in Indiana. "It's just shuffling money around and then putting the blame someplace else."
The idea of setting aside significant sums for teacher pay often gets met with "glazed-over reactions," Sloan said, "or they smile and nod their heads. But I don't hear anyone saying we're going to make this happen."
Some teachers accuse lawmakers of damaging the teaching profession through past laws that weakened unions' bargaining powers, handed down testing mandates, and hinged teacher evaluations on student test scores. Lawmakers, they point out, also determine education spending levels, deciding to fund public schools mostly through the state, capping local property taxes, and sending public education dollars to charter schools and private school vouchers.
"What's super frustrating is that we just keep taking hits," Mundy said, "and then we're just supposed to accept what our [Republican] supermajority has to offer us."
But a protest against the Statehouse might be unwieldy. Unlike in states that set minimum salaries or salary schedules, each district in Indiana faces a different situation.
In Indianapolis' Wayne Township, for example, local union president Scott Hatfield said teachers are largely satisfied with the salary schedule, which ranges from $42,500 to $83,270.
Teachers have plenty of other concerns—insurance premiums can take a hefty bite out of paychecks, Hatfield said, and the district is in such a tenuous financial position that it is seeking another local referendum in May to raise taxes, overlapping with one that passed in 2015.
But salaries are "not really that pressing of an issue," Hatfield said—and not an issue that teachers would walk out over.
Or in Carmel, one of the state's wealthiest suburbs with some of the highest test scores, where teacher salaries start at $36,436, union president Pete O'Hara said teachers feel strongly that they're falling behind on salaries—but not strongly enough to protest.
"I'm confident that we'll be able to work with the administration to come up with a reasonable pay raise for the next contract," he said.
A weekend rally at the Statehouse next month planned by the Indiana State Teachers Association could give teachers a chance to show just how riled up they are. It's not planned as a protest—advocacy groups regularly descend on the legislature when lawmakers are in session—but ISTA President Teresa Meredith hinted that the tone could change if needed.
Teachers showed up at the Statehouse in force in 2011, flanked by other union workers to fight an effort to reduce collective bargaining rights. But they still lost, and teachers unions were stripped of the ability to negotiate factors such as class sizes and school calendars.
But this year, educators believe they have public opinion on their side: "There's a feeling amongst the population that we've somewhat neglected to take care of our teachers," said Julie Hyndman, president of the teachers union in Fort Wayne.
Last fall, discontent spurred teachers in northwest Indiana to protest. During contentious contract negotiations, Portage teachers said the district was holding back raises that they had been promised. But they felt like they were doing more work than ever, said local union president Deb Porter, working to implement a new framework for teaching.
More than 100 teachers came to protest outside the board's private meeting one November evening at a seafood restaurant inside the local Bass Pro Shops. They stood in a parking lot holding signs, finding strength in numbers so no teachers could be singled out. Outside of work hours, they felt what they were doing was simply exercising free speech.
"We needed to communicate to the school board in a profound way how unhappy we were with how these negotiations were going and how we felt we were being treated," Porter said. "It turned out to be a very galvanizing moment for us."
In the end, Portage teachers won $1,000 salary increases but failed to clinch the bonuses they wanted.
"These people are highly skilled at their professions, and we need to pay them like highly skilled professionals, not like babysitters," Porter said.
If teachers across the state decided to walk out, she said, "My teachers would be all over it. 
Chalkbeat is a not-for-profit news site covering educational change in public schools.
Please enable JavaScript to view this content.