Deadlines and job-hungry states, including Indiana, are closing in on union leaders in York, Pa.
The small
city in rural central Pennsylvania is where Harley-Davidson—among the state's largest employers—is threatening
to close a World War II-era assembly plant. The company says it might be more efficient to open a plant in another state.
Indiana is on a short list that also includes Kentucky and Tennessee.
Harley will decide by the end of the year
whether to continue the motorcycle-making tradition in York. That decision will hinge on whether the machinists union can
help wring out $100 million in operating costs, and ratify a new contract by Dec. 2.
"Everybody's
scared for their jobs," said Dave Bunnell, president of the International Association of Machinists and Aerospace Workers
Local 175. "As far as I'm concerned, the chances are slim that they're leaving York."
Bunnell's bravado is to be expected, considering the hundreds of jobs at stake. Experts in labor, manufacturing and
economic development say there are a host of reasons Harley-Davidson will stay put.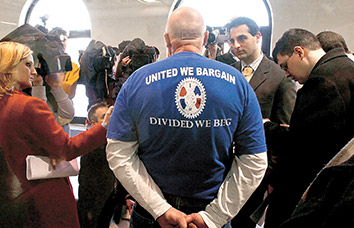 A former president of the machinists
union in York, Pa., speaks to the press in February 2007. The union is trying to keep Harley in York, but it might relocate
to another state. (AP Photo)
In fact, York is the company's first choice.
"There's
clearly a bigger opportunity, probably, in that facility for a lot of different reasons than in many other ones, and so that's
top-of-mind for all of us," Harley CEO Keith Wandell said during an earnings conference call in July.
Harley-Davidson
is nearly as prominent in York as in its headquarters of Milwaukee. The plant employs 2,100 people in production and another
300 in administration. It also anchors the local tourism effort. With Hershey's Chocolate World outside Harrisburg and
the iconic motorcycle maker south of the Susquehanna River in York, the region bills itself as the "Factory Tour Capital
of the World."
Chasing the prize
Indiana stands to land
a much smaller Harley presence. The recession has wrecked sales of the company's luxurious bikes, the least expensive
of which costs about $15,000. Harley is talking relocation while shrinking its work force.
Even so, moving could
mean 1,000 jobs for the Indianapolis area—an opportunity spawned by an Indiana executive who sits on Harley-Davidson's
board.
"I spoke to the executives in charge and told them the governor here was very interested in bringing
companies in and economic development," said Tom Linebarger, chief operating officer at Columbus-based Cummins Inc.
"Oh, and by the way, he rides a Harley."
Harley representatives visited a site off Interstate 74
on the northern edge of Shelby County three times in August.
It's not clear why
the company has zeroed in on that area. Dan Theobald, executive director of the Shelby County Economic
Development Corp., declined to comment. The Indiana Economic Development Corp., which will likely come
up with a rich set of tax breaks and other incentives, also would not comment.
Pennsylvania
Gov. Ed Rendell at one point said he would secure at least $15 million to keep Harley. Rendell's
office is no longer talking specifics.
Carmel-based economic development consultant Larry
Gigerich guessed that Indiana, Kentucky and Tennessee could come up with as much as $40,000 per job, or incentives totaling
$40 million.
But even if Harley wants to move, Gigerich doesn't think the company could raise the money
for a new plant. He guessed that a building without equipment would cost at least $20 million.
"If we were
not in this really difficult economic time, and capital markets had not closed as much as they have, it could create more
opportunity for a move," said Gigerich, managing director of Ginovus LLC.
Harley is in an especially weak
position for financing construction, Gigerich noted. In February, the company sold $600 million in unsecured notes with a
hefty annual interest rate of 15 percent to prop up its in-house financing division.
The company has been slashing
jobs as sales slump. In the second quarter, worldwide retail sales of its motorcycles fell 30 percent compared with a year
earlier.
Since January, Harley has said it will cut 2,300 to 2,500 jobs this year and next. By the end of 2010,
the company will have laid off more than 20 percent of its work force.
The job cuts and other changes, including
outsourcing distribution, will save the company $140 million to $150 million a year.
That number doesn't
include the savings that might come with making York more efficient, or pulling up stakes. Bunnell told the Central Pennsylvania
Business Journal in July that Harley was looking to cut $100 million out of the $1 billion a year it takes to run the
York plant.
Harley spokesman Bob Klein would not confirm that figure, and Bunnell said he could no longer discuss
numbers.
Bunnell said the company's announcement in May that it might move put unexpected pressure on the
union.
"We knew something was going to happen," said Bunnell, a 49-year-old elected to the president's
post in January. "Nobody knew it was going to be this drastic."
Concessions ahead
Harley's workers are facing a whole new reality. In February 2007, IAM struck for three weeks before
ratifying a three-year contract that calls for Harley to pay full health insurance premiums and a maximum hourly wage of $27.89.
Now, joint union-management teams are looking line by line at the cost of assembling Harley's Touring and
Softail models in York. Bunnell said the union can match outside competition on most components, but non-core parts, such
as brackets and kickstands, might be outsourced.
Harley has also asked the union to ratify a new contract by
Dec. 2, Bunnell said. Negotiations have not begun.
Finally, Bunnell said the company wants to effect a "culture
change."
Not everyone is rallying to the cause.
"We have quite a few people that are
working really hard on staying," Bunnell said. "We have some people who feel the company has their mind made up."
Pessimists in York (and optimists in Indiana) know manufacturers have a habit of fleeing union strongholds. It's
true that moving would force organized labor to start from scratch, but Harley wouldn't completely escape.
"The assumption is the new site would be a unionized facility," Klein said. "Harley-Davidson has a long
history of close working relationships with the unions."
Klein said officials at IAM headquarters in Maryland
have been involved in the site-selection process.
Paul Clark, a labor studies professor at Pennsylvania State
University, said there's no reason to think the union in York can't deliver the savings Harley needs.
"No one knows more about the specific work process … than the people who do the different components of that
work process," he said.
Union leaders will have to find a way to sell what's likely to be a drastically
different contract, said David Cole, chairman of the Center for Automotive Research in Ann Arbor, Mich.
"It's
very difficult, but again, the axis of choice is different than what a lot of people would think," Cole said. "It's
not 28 [dollars per hour] versus 15. It's 15 versus zero."
In public at least, Harley-Davidson has
put the focus on efficiency, rather than wages.
"It gets down to … having much greater flexibility
in terms of what work we do at York, as well as how the work is performed," Klein said.
For example, Klein
said York employees are assigned one of 60 job classifications. That degree of divvying greatly restricts workers' ability
to take up tasks as needed, he said. Other Harley sites, by comparison, have about 10 job categories.
Harley-Davidson
is also looking to make the York plant itself more efficient. The campus contains some 40 buildings with a combined 1.5 million
square feet of floor space, Klein said.
York was the final assembly site for all Harley bikes until the late
1990s, when the company opened a plant in Kansas City, Mo., to produce the Sportster and Dyna models.
In 2003,
Harley built new production space in York to accommodate growing demand for the Softail. The company will not say how much
it spent on that addition.
Now, Harley is trying to figure out how to produce both the Touring and Softail models
in the more modern part of the York campus, Klein said.•
Please enable JavaScript to view this content.