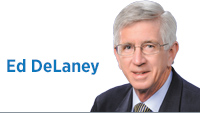 When it comes to education, Indiana is too often cheap and incompetent. As an example, we have been proven incapable of funding preschool. We started by limiting state support for pre-K to a small minority of our counties. We budgeted for this limited effort but failed to spend $6 million or more of the authorization. So about 1,000 kids lost out. Let's hope we do better next year.
But bigger problems loom: the refusal to raise teacher pay and to strengthen school districts in need. Let me focus for now on a proposed experiment to evaluate our schools and school districts.
What is the germ of the latest reform idea being tested out by Rep. Bob Behning, the chair of the House Education Committee? It is to replace high-stakes testing of kids with higher-stakes measuring of school performance. Apparently, the public's doubts about testing and high-stakes teacher evaluations have penetrated the supermajority. So the current testing experiment once called ISTEP will face a well-deserved burial.
But beyond burying excessive testing, we need to ask, how can we assess our educational efforts? Instead of testing students, the newest "reform" would gather data to measure which career choices students make right after graduation. Rewards would be given to those schools and districts whose graduates made good choices. Specifically, we would financially reward districts whose graduates are still full-time college students after their first semester, have earned a "high wage, high demand certificate" or are in the military. The measurement isn't really clear, but the upshot is this: Districts with successful graduates will get more revenue. How much is not yet known.
At the end of the day, such a reward system would increase revenue for districts with strong demographics. Any parent, real estate broker or school official can already tell you which schools produce successful graduates. This success is thanks largely to family educational levels, parental support and individual effort. Our focus should be on those families and districts that are struggling, not on further rewarding those that are already blessed.
The proposed change appears to be part of the wave of talk about "workforce development." Implicit in this focus is the belief that our public schools are training academies, not academic enterprises. Implicit is the view that education is for employers, not for the learner. That is a fundamental shift from what many of us believe. It also suggests that the Legislature and the statisticians know what careers have value now and in the future.
The transition from educating broadly to training for careers would call for a dramatic reconsideration of the purpose of public education. To me, the measure of a successful school is whether it helps each child reach his or her potential, not whether we are filling the ever-changing needs of future employers.
If we make the proposed shift to a strong focus on rewarding schools for employment after graduation, we will need to dramatically increase the number and role of school counselors. Our high school counselors are often required to counsel some 400-600 students on their social and emotional needs. They also have to help students pick courses to match complicated graduation requirements. Last, they are to counsel the same students on career choices. This is a tremendous burden. We might need to double the number of counselors.
I will know the General Assembly is serious when it acts to fill the need for counselors, to fund schools that struggle, and to improve teacher pay, all as it once again turns our methods of evaluating schools and students on their heads.•
__________
DeLaney, an Indianapolis attorney, is a Democrat representing the 86th District in the Indiana House of Representatives. Send comments to ibjedit@ibj.com.
Please enable JavaScript to view this content.