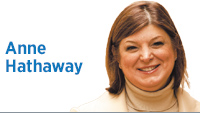 With Red Line construction well underway, it is critical that IndyGo not only communicates—but also collaborates—with the businesses, organizations and residents affected. With progress and change come unintended consequences. Most consequences are small, albeit daily, nuisances like traffic, limited parking, longer walks or road closures.
However, others have much larger implications and the potential to drastically harm the lives as well as the successes of businesses and organizations along the route.
In the past 18 years, thousands of domestic and sexual violence survivors have turned to IndyGo for transportation to and from the Julian Center. For these brave individuals, public transportation is more than a ride from one place to another. The city's bus system is a lifeline to safety and the place where they can rebuild their lives—independent of abuse. Unfortunately, for these residents, the current construction of the Red Line—along with the relocation of the bus stops along Meridian Street—threatens to take away the very independence, security and safety they desire.
For example, in early October 2018, at about 9:20 p.m., a young woman was riding an IndyGo bus. She was almost home, and for the first time in a while, her life was on the right track. She had a job, her own apartment and, most important, a life free from her abuser. As she stepped off the bus onto the temporary stop at 34th and Meridian, she was struck by a drunk driver. That young woman never made it home.
Approximately one month later, the safety of the temporary bus stop was called into question again when another young woman was struck by a vehicle while making her way to the IndyGo bus stop in the middle of Meridian at 21st Street.
These are sad, true and scary stories from clients of the Julian Center, and what is most troubling is that they could and should have been avoided. IndyGo must work harder to ensure that the safety and security of residents is the priority.
In addition to the safety hazard posed by the temporary bus stops, the Red Line poses serious long-term consequences. IndyGo has opted to remove the bus stop currently in front of the Julian Center in favor of new Red Line stops several blocks away.
Relocating these stops will put the safety of current and potential clients at risk by posing a dangerous transportation gap. These survivors seek shelter because there's nowhere else to escape. The extended walk between the safe haven of the Julian Center campus and the Red Line stops exposes these survivors, their children and Julian Center staff to a very real danger from abusers.
For the Julian Center, IndyGo's claims of making it a top priority to work "closely with neighborhoods, residents and other stakeholders to ensure the Red Line and future BRT lines bolster communities" rings hollow. Despite an ongoing effort by the leadership team at the Julian Center to address these issues through appropriate channels, the lack of response has been alarming and frustrating. IndyGo officials have offered little in the way of solutions or partnership—replying with nothing more than verbal shrugs.
As Hoosiers, we pride ourselves on our ability to listen, learn and work together to achieve great things, to make this community and our state the place where folks who live are glad they do and those who don't wish they did.
While we continue to make progress to build a better community, we need to be aware that what makes this a great city is that we come together to solve real problems for all residents.•
Click here for more Forefront columns.
__________
Hathaway is president and CEO of Hathaway Strategies, chairwoman of the Julian Center board and former chief of staff of the Republican National Committee. Send comments to ibjedit@ibj.com.
Please enable JavaScript to view this content.