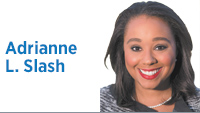 Times couldn't be more exciting for political-news enthusiasts. Political happenings have become popular culture and current events are a part of regular conversation. The flip side is that we're also learning just how many civics lessons went unabsorbed in the classroom and how many people do not understand how government works.
As our state and federal governments gather and consider bills, more and more people are following every day. As I scroll my Facebook timeline, I can't help but notice a common thread—disbelief and bewilderment. Among the bills at the Legislature: Senate Bill 1 on foster parent standing protections; House Bill 1285, which addresses campaign violations; HB 1191, which would allow refuge for other states' Confederate statues that are now homeless in those states. You read that right: Statues that were removed from another state because they were found to be offensive should come here because anything goes in Indiana? No. Just no.
The bewilderment comes into play when it seems that common sense is missing. With foster parents, why wouldn't we want them to be able to stand up for and protect the kid we've asked them to care for? Or, if a statue is unwelcome in another state because it was offensive to its residents, why would it be OK here?
In the case of hate crimes (SB 12), why would it make sense for us to water down a law and not include all otherwise-protected classes? As the African American Coalition of Indianapolis stated in its recent press release, "It is dangerous for good people to be silent in the face of evil and not stand united with others when actions are taken to terrorize individuals, or an entire community, because of their religious traditions, ethnicity, gender or sexual preference."
As Gov. Holcomb continues to take our state to the next level and draw positive attention to the great things we're able to do here, how about we also do our best to legislate in a forward-thinking manner?
In a perfect world, all elected representatives would have the opportunity to meet the people they attempt to write out of legislation and connect with them empathetically. If that were the case, we could stop introducing legislation that draws immediate red flags from some while the proposing legislator sits in his or her echo chamber and says, "This is a good idea, right?" Of course, testimony is welcome, but common sense is missing from the process.
As a community leader, I've had the opportunity to sit in the rooms and around the tables where decisions are made that will impact many. The type of anxiety you get at that time is unmeasurable. Attempting to make sure that what you're doing is right and puts you on the right side of history is not lost on me.
However, from time to time, issues are introduced and discussed without proper representation at the table. It then becomes our job as constituents to voice opposition or raise questions.
In the last election cycle, many millennials and Generation Zers got motivated to run to the polls by a commercial that insisted that baby boomers' interests were covered with current representation. In many circles, that advertisement alone turned the lightbulb on.
Locally, young professionals are jumping into races to represent their communities and our generational interests. We as a community should embrace as many as we can. The more representative voices in the elective process, the better.•
Click here for more Forefront columns.
__________
Slash is a diversity and inclusion consultant in the health care industry and is president of The Exchange at the Indianapolis Urban League.Send comments to ibjedit@ibj.com.
Please enable JavaScript to view this content.