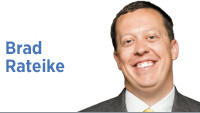 When government officials leak unauthorized information, the biggest victim is not the staff members targeted or the elected official overseeing the office, it's the taxpayers.
Leaks cause distractions for the office involved, every time. When a communications staff is trying to push a message or educate the public on an issue of importance to the country, it's counterproductive to have that team playing defense instead of doing the job it was sent to do.
The "tell all" book is one of the most egregious forms of leaking. The author has always left the team and doesn't have to look former colleagues in the eye when they are defending themselves and their boss because a former teammate wanted quick cash, notoriety and the chance to settle some scores. The author can give his or her side of the story in a highly promoted series of interviews, while those "maligned" in the book have no platform at all to refute the stories or give context, which might have been left out. To say, "It's not fair" is fair. However, the chilling effect of leaking on good governance is downright dangerous.
Imagine if every private conversation you had at work were made available to the press, to your customers, to your boss. Brainstorming, as a practice, would cease to exist. No one could say, "Let's think outside the box; there are no bad ideas," because any idea could be viewed as a bad idea in its raw form. The proverbial cat could never be let out of the bag because it was never in the bag in the first place.
One of the most interesting Super Bowl commercials was one for The Washington Post, which included the newspaper's "new" slogan, "Democracy dies in darkness." The paper's point is that transparency is important in many things, especially in government. I absolutely agree. But the freedom of deliberation should still exist. Not every conversation should be for public consumption.
For every unauthorized schedule that is shared, the careers of loyal junior staffers stall because they're cut out of future meetings and given less access to information—not because they leaked. It's just the safe play to close the circle. Every time someone "talks out of school" about a personal conversation he or she had with a colleague or principal, everyone becomes more robotic because it's easier than being human and authentic.
It's hard enough to get elected to public office in this country because of the scrutiny of a 24-hour news cycle and social-media-driven world. It's why candidates who would make phenomenal public servants choose to never step in the ring. The job is even harder once you get there, not the least of which is the fact that many of the reporters who write stories critical of leaking are the same people who aggressively solicit leaks from staff. Oh, the irony.
These challenges are one of the reasons I have so much respect for those people willing to take the personal and professional risks to run for office. It's also why I have such little respect for those who actively undermine their colleagues and our elected leaders.
If you're unhappy with your job, leave. Don't make it harder for those who continue to serve. A former boss once told me, "No one remembers how you come into a job, but they always remember how you leave."
Most people I know in government understand the dangers of leaking. It's why most people I know in government don't leak.•
Click here for more Forefront columns.
__________
Rateike is founder and owner of BAR Communications and served as director of cabinet communications for President Donald Trump. Send comments to ibjedit@ibj.com.
Please enable JavaScript to view this content.