Community Achievement in Health Care
OPTIMISTIC (Optimizing Patient Transfers, Impacting Medical Quality and Improving Symptoms, Transforming Institutional Care) 
Dr. Kathleen Unroe, Acting Director and Research Scientist, Center for Aging Research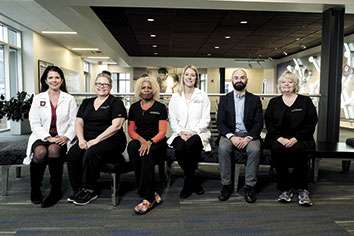 OPTIMISTIC team members, from left, Dr. Kathleen Unroe; nurses Janice Shipley and Terry McClinton; nurse practitioner Jennifer Carter; administrator Russ Evans; and nurse Becky Ridder. 
Giving frail nursing home patients the medical care they need without moving them to a hospital seems like common sense. It eliminates physical and emotional trauma and avoids unnecessary expenses.
But it's a goal that can't be achieved if nursing facilities aren't staffed and equipped to deliver the care residents need.
Proving that facilities can rise to the task is the objective of OPTIMISTIC, a project of Dr. Kathleen Unroe and researchers at the Regenstrief Institute, which works closely with faculty at the Indiana University School of Medicine to improve models of care.
OPTIMISTIC, which started in 2012 with a $13.4 million grant from the federal Centers for Medicare and Medicaid Services, has assembled a coalition of interdisciplinary medical experts, policymakers and business leaders who are piloting the project in 40 nursing facilities across the state.
After starting with 19 facilities, the number was doubled three years ago. That's when initial results—Medicare spending reductions of nearly $13.5 million over two years—persuaded CMS to invest another $16.9 million. 
The savings are one thing, but top-of-mind for Unroe and her colleagues is improving care for the elderly. It's a population she's been fascinated with since she was a 10-year-old in Ohio and would go with her grandma to visit friends in nursing homes.
"I always felt comfortable there and liked talking with the people," she said. "I could have a 30-minute conversation with someone and feel like I'd made a positive impact on their day."
Her passion for helping seniors led her into medicine and eventually to Duke University, where she did a fellowship in geriatric medicine. Drawn by the work IU was doing in senior health, she came here seven years ago. About six months after she arrived, CMS was seeking proposals from teams interested in tackling the problem of unnecessary hospitalizations of the elderly. IU quickly assembled a team, and its proposal was among seven chosen across the country.
Working with a variety of partners, including the Butler University pharmacy school and the Center for Aging & Community at the University of Indianapolis, Unroe and her colleagues dove into the work.
OPTIMSTIC's central task is staffing nursing facilities with nurses and nurse practitioners trained in recognizing problems early and delivering care when a resident gets sick.  
But the project also touches other complexities.  Among those is a new payment model OPTIMISTIC is testing for CMS. It boosts reimbursement for on-site treatment of urinary tract infections, chronic obstructive pulmonary disease, pneumonia, skin infections, dehydration and heart failure.
Typically, a nursing facility gets the same government reimbursement for residents whether they have pneumonia or their health is status quo, even though the sick patient requires more resources—unless the person is hospitalized and then returns to the facility.
That backward incentive is among the systemic flaws the project team wants to eliminate.  
Unroe feels fortunate to be able to influence change while still visiting the elderly one-on-one as a clinician.
She believes in OPTIMISTIC's work enough that she's started a firm, Care Revolution, to export the model. When it comes to geriatric care, "it's tough to move the needle," she said. "We're eager to build infrastructure around keeping this going."•
Please enable JavaScript to view this content.