Community Achievement in Health Care
Trinity Free Clinic
Trinity Free Clinic on the campus of Our Lady of Mount Carmel Catholic Church has grown from a makeshift clinic started by a priest and two parishioners into a vital part of health care in Hamilton County.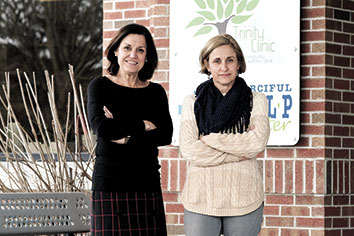 Trinity co-founder Cindy Love, left, and Executive Director Dina Ferchmin.
In a county known for its affluence, the clinic has become a lifeline for the working poor and the small businesses that employ them.
"When you look around Carmel, you see all the wealth, but all the people who work to keep it beautiful and comfortable … they are invisible and they need our help," Executive Director Dina Ferchmin said.
A Walmart cashier making $17,000 a year can't afford to meet her $5,500 deductible, said Ferchmin, noting that many clinic patients work in retail or are janitors. Some work for small businesses that can't afford a health insurance plan.
Caring for the working and unemployed poor was parishioners Cindy Love and Joannie Kinnaman's goal when they started the clinic in 2000 with the blessing of Our Lady of Mount Carmel's the Rev. Richard Doer.  The organizers were surprised when 77 medical providers came to the first planning meeting,  support that energized the clinic's founders. 
In the beginning, volunteers offered care in the Our Lady of Mount Carmel school library on Saturday mornings, creating makeshift patient rooms with PVC pipe and bedsheets. Clinic organizers soon realized they needed a dedicated facility and longer hours to meet the overwhelming need. They repurposed a former convent on the church campus, but it didn't take long for the clinic to outgrow the space.
After a capital campaign, the parish built a $2.1 million clinic known as the Mathew 25 Center, named for a New Testament verse that reads, "Truly I tell you, whatever you did for one of the least of these brothers and sisters of mine, you did for me."
The building, which the clinic rents for $1 a year, houses six patient rooms and six dental suites where 377 volunteers provide care six days a week.
"We are humbled when these volunteers say yes to serve the vulnerable in our community," said co-founder Love. 
The clinic is a community endeavor powered by universities, health systems and businesses that offer providers, administrative help and other services.
Among the volunteers are 55 medical practitioners and 55 nurses. There are 30 dentists from the Indiana University School of Dentistry and a collection of pharmacists, including interns from Butler, Purdue, Manchester and Cedarville universities. A new partnership with Marian University's College of Osteopathic Medicine provides help from medical students and faculty.
Executives at four major health care systems are members of the clinic's board. They bring expertise and also donate money and supplies. 
Those relationships aren't a one-way street, Ferchmin said. The clinic provides charity care to patients who might otherwise visit the hospital emergency department but not have the means to pay.
Mutually beneficial relationships are a hallmark of Trinity Free Clinic, where the small businesses whose employees get free treatment show their appreciation by giving back.
Hittle Landscaping in Westfield takes care of the grounds, for example, and Joe's Butcher Shop and Fish Market in Carmel provides lunches for Trinity board meetings.•
Please enable JavaScript to view this content.