First, Amazon sold books. Then it added music and videos. Next, it moved into electronics, toys and software. After that came jewelry, food, kitchenware and countless other product lines.
At each step, consumers flocked to the online retailer and numerous traditional retailers closed their doors, unable to compete. It was called the Amazon Effect.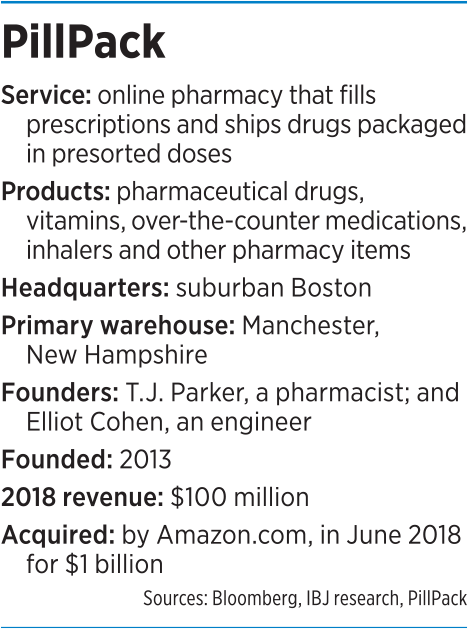 Now, the e-commerce giant is gearing up for its latest disruption: the nation's $400 billion pharmacy market. And Indiana could play a significant part—from the patients who order the drugs, to state regulators who issue pharmacy licenses, to the vast network of fulfillment centers in central Indiana that could expand to help deliver the medicines.
On top of that, if Amazon jumps into the pharmacy business in a huge way, as it has other industries, the fallout would almost certainly ripple out to St. Louis-based Express Scripts' 340,000-square-foot pharmacy distribution center in Whitestown, which has 900 employees.
Amazon took its first step into the industry last June by paying $753 million to acquire Boston-based PillPack, an online pharmacy founded only six years ago that ships drugs packaged in presorted doses to patients all over the United States.
Amazon's larger pharmacy-distribution strategy could take years to unfold, experts say, but the forces behind it seem solidly in place.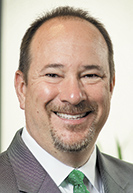 Blish
"It's all market response to high drug prices and pharmacy inflation," said David Blish, director of health care consulting at accounting and consulting firm Katz Sapper & Miller in Indianapolis.
From 2015 to 2018, there were more than 10,000 price hikes on brand-name drugs, with many of the increases above the rate of inflation, according to 46brooklyn, a data research firm.
It's a complicated issue, with a long list of players and forces at play in the drug supply chain, from pharmaceutical companies that develop and market the medicines, to middlemen called pharmacy benefits managers who negotiate drug prices with insurers, to the corner drugstore, where patients often feel the sting.
The rising prices affect American pocketbooks in a big way. About six in 10 Americans take at least one prescription medicine, and about one in four take more than three, according to the Kaiser Family Foundation.
About 80 percent of Americans say the cost of medicines is unreasonable, with many people not filling their prescriptions or cutting pills in half to make them last longer.
Jumping in
Amazon had been rumored to be eyeing the online pharmacy business for years. In 2017, it started down that path, applying for pharmaceutical distribution licenses in at least 12 states. In Maine, it tied applications to three existing Amazon fulfillment centers in Indiana—two in Plainfield and one in Whitestown.
The news of Amazon's interest made national news but the buzz gradually died down as the company showed little sign of moving forward. Amazon has since canceled its Indiana license applications.
But the topic splashed into the headlines again last summer when Amazon scooped up PillPack. The young firm had already built a network of five distribution centers in New Hampshire, Florida, New York, Arizona and Texas. It had licenses to ship medicines to customers in 50 states.
On the day Amazon announced the acquisition, shares of CVS, Walgreens Boots Alliance and Rite Aid Corp. tumbled. The three companies lost more than $11 billion in market value in one day.
Some observers say they believe the PillPack deal, by itself, won't radically change the pharmacy landscape. PillPack, with about 1,000 employees and estimated annual revenue of $100 million, is minuscule compared with CVS, which has more than 200,000 employees and revenue of $130 billion.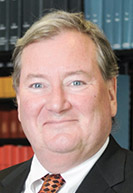 Terry
But the acquisition signaled Amazon was gaining a foothold, one that observers believe the company will build on.
"I think one of the ways Amazon works is to kill you with 1,000 cuts," said Nicholas Terry, executive director of the Hall Center for Law and Health at Indiana University's Robert H. McKinney School of Law. "First, it buys PillPack. Then it expands its pharmacy business generally. Then it adds ordering and renewal with Alexa (the company's hands-free virtual assistant). Then it slowly squeezes suppliers to try and get better and better costs as its market share goes up. Then at some point, it becomes a dominant player."
By buying PillPack, Amazon seems to have saved itself a huge amount of front-end work, such as getting pharmacy licenses, building a network of wholesale drug suppliers, and erecting more distribution centers.
PillPack has a long list of pharmacy licenses in hand and, under Amazon, is scooping up more. In December, Jefferies analyst Brian Tanquilut reported that PillPack had been granted seven additional licenses, including one in Indiana. The Indiana Board of Pharmacy said the new license just reflected a change in ownership for a New Hampshire warehouse from PillPack to Amazon.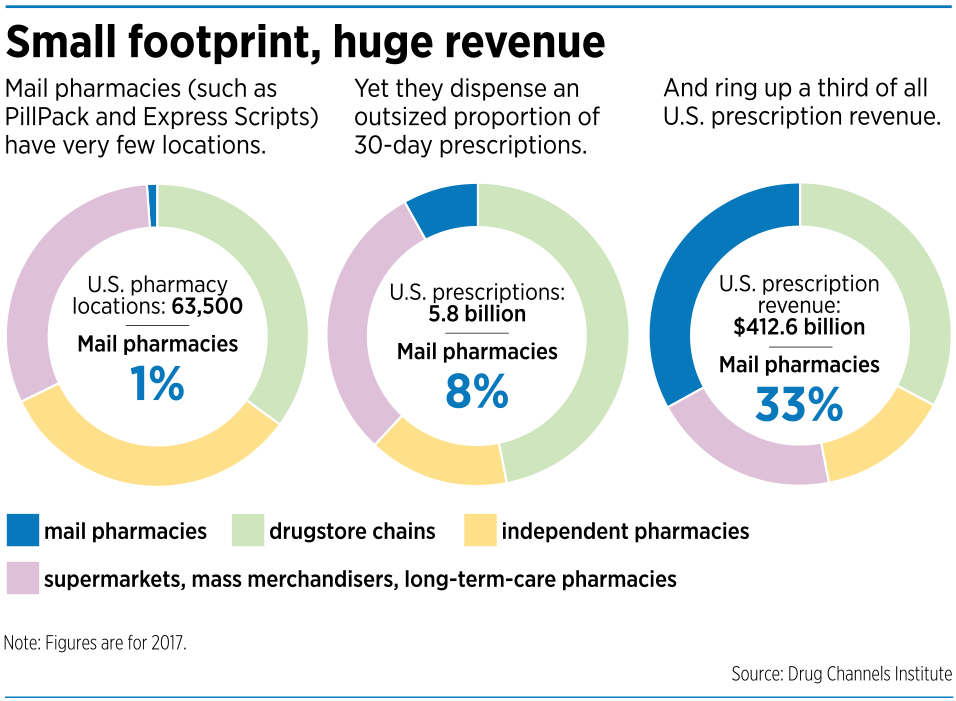 That's on top of three it already has in Indiana, which allow it to ship drugs here from distribution centers in New Hampshire and Texas. The new licenses would allow it to ship pharmaceuticals from its other facilities, giving it more flexibility in storing and sorting the medicines.
"These license applications do not come as a big surprise, as Amazon's acquisition of PillPack was known to be the gateway for the online retailer's expansion into the Rx retailing space," Tanquilut wrote in a research note on Dec. 10.
And nothing is apparently stopping Amazon from applying for licenses at its existing Indiana fulfillment centers. The company is already gearing up for a large expansion in this region, with plans to open an $80 million distribution facility in Greenwood that's expected to employ 1,250 full-time workers.
Other options
But some say Amazon doesn't need to spend millions building yet another distribution center, here or anywhere else, just to handle prescription drugs. Instead, the company can use its existing warehouses and fulfillment centers to handle that business, as long as it can get the state pharmacy licenses for each location.
"I don't think Amazon is going to build a new pharmacy distribution anywhere," Terry said. "They're going to insert it into their existing infrastructure."
The company might also use its 497-store Whole Foods upscale grocery chain as another vehicle into the industry. No Whole Foods location now has a pharmacy, but that hasn't stopped some analysts from speculating that will change.
In 2017, Morgan Stanley analysts wrote in a report that Whole Foods "creates an entry point to drug delivery" and provides the necessary real estate. Still, if Amazon went that route, it would have to start applying for pharmacy licenses for each location, then compete with more than 65,000 brick-and-mortar pharmacies, from small independents to huge national chains.
The path to dominance might be smoother in mail-order pharmacy distribution, where Amazon can build off its enormous know-how in online retailing and logistics.
Mail-order pharmacies accounted for just 8 percent of the nation's 5.8 billion prescription orders for 30-day supplies of medicines in 2017, according to Drug Channels Institute, an industry researcher, a figure that suggests plenty of room for growth. While some mail-order giants like Express Scripts ship mostly 90-day supplies of drugs, PillPack ships only 30-day supplies.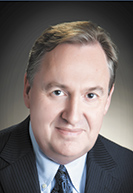 Jackson
Many consumers still would rather get a prescription filled at a brick-and-mortar pharmacy, instead of waiting several days for what is often a critical shipment to arrive in the mail, some experts say. Much of the online business is due to employer-sponsored drug plans that require it, said Stan Jackson, vice president of Apex Benefits in Indianapolis.
But as drug prices rise, customers might be more willing to give mail order another look, he said.
"If it's going to save money—and that's Amazon's thing—you might see more uptake," Jackson said.
In the face of Amazon's jump into mail order, some drugstore chains are looking for ways to shore up their business. For example, CVS last year announced it would offer next-day delivery of prescription drugs at all locations and same-day service in some big cities, but not Indianapolis.
Experts say it isn't yet clear how the competitive landscape will shift, but that it will.
"It may not be the story of books all over again," IU's Terry said. "But it's going to impact Walgreens and CVS to some degree. It's too soon to say how much. This is going to take some time to play out."•
Please enable JavaScript to view this content.